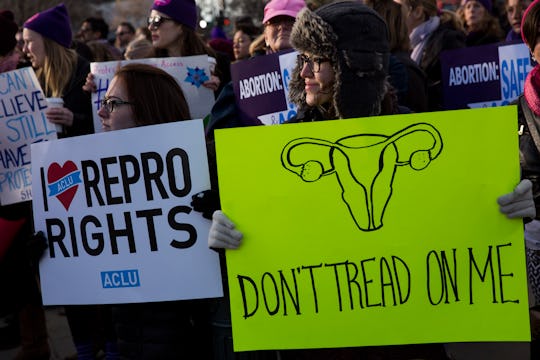 Drew Angerer/Getty Images News/Getty Images
Anti-Choice Activist To Oversee Family Planning Funds
President Donald Trump and his administration are no friends of women's reproductive rights, from safe and legal abortions all the way down to access to affordable birth control pills. So, it's no surprise at all that the president has reportedly selected a woman who has edited a book about the anti-abortion movement and believes that family planning is an issue concerning only a husband, wife, and God to head up the nation's federal family planning program. Much of the country has probably never heard of this ultraconservative law professor prior to her appointment, but her past public declarations and positions she's held show exactly who Teresa Manning is — and demonstrate that she's ill-equipped for her new gig.
Politico first reported the news that Manning had been named deputy assistant secretary of population affairs at the Department of Health & Human Services (HHS). The White House did not confirm the appointment, but Manning's name has already been added to the HHS employee directory. (Romper also reached out to the White House to verify the report, but has not yet received a response.) But while Manning's résumé would appear to make her an unbelievable candidate for the job under a reasonable president, Trump's history of handing off control of certain departments and agencies to people who oppose their missions put her right at home.
According to The Guardian, Manning has worked for both the anti-abortion group National Right to Life and the ultraconservative, notoriously anti-LGBTQ lobbying group the Family Research Council. And in 2003, during a media tour to promote the book she edited on the anti-abortion movement, she flouted her opposition to everything the Title X program she'd later come to lead stands for:
I always shake my head. You know, family planning is something that occurs between a husband and a wife and God, and it doesn't really involve the federal government, much less the United Nations, where we hear about family planning all the time. What are they doing in that business?
Title X is a grant program that provides crucial funds to health care providers to ensure that low-income and uninsured women and men can access family planning and preventive health services. Last, month, Trump signed a bill giving states the authority to withhold this money from entities that also offer abortions.
Now, Trump is simply doubling down (again) in his total and complete disregard for women's health. Because Manning is not just a staunch anti-abortion crusader — she also rejects the very idea of contraception, as she explained in a 2003 radio interview, according to HuffPo:
Of course contraception doesn't work. Its efficacy is very low, especially when you consider over years — which, a lot of contraception health advocates want to start women in their adolescent years, when they're extremely fertile, incidentally, and continue for 10, 20, 30 years. The prospect that contraception would always prevent the conception of a child is preposterous.
In fact, many types of contraception are incredibly effective. And the fact that the person who will now call the shots when it comes to the distribution of Title X grants money denies this is a major concern for proponents of women's health care.
Dawn Laguens, the executive vice president of Planned Parenthood Federation of America, said in a statement, according to Mother Jones:
It is a cruel irony to appoint an opponent of birth control to oversee the nation's only federal program dedicated to family planning. We are at the lowest rate of unintended pregnancy in 30 years and a historic low for teen pregnancy because of access to birth control. Someone who promotes myths about birth control and reproductive care should not be in charge of the office that is responsible for family planning at HHS.
Cruel irony, indeed. Manning's ascension to her new government role is also 100 percent indicative of Trump's views on the importance of having women's health care decisions be made by only women and their doctors.