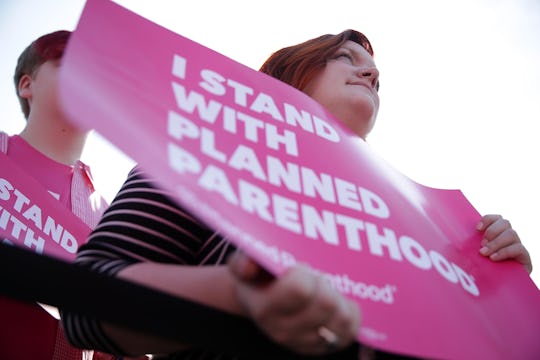 Alex Wong/Getty Images News/Getty Images
Title X Planned Parenthood Bill Just Got Trump's OK
Republican lawmakers are dead set on restricting and ultimately abolishing access to safe and legal abortion in the United States, and they just made progress toward that goal. On Thursday, President Donald Trump signed an anti-Planned Parenthood Title X bill that would allow states to withhold certain federal funding from abortion providers. While this move may have Trump's conservative base and GOP colleagues cheering, the fact is that it very well could have lasting negative effects on women's ability to access a huge range of crucial reproductive health care and family planning service that extend far beyond abortion.
At the very end of his tenure in office, President Barack Obama enacted a rule to ensure that states could not disqualify entities that perform abortions from receiving Title X grant money for any reason other than an inability to provide the family planning services it's meant to fund. But the bill to unravel this added protection cleared Congress in March after Vice President Mike Pence decided a tie vote in the Senate. Trump has pledged to defund Planned Parenthood in the past, so it came as no surprise when he signed the bill into law.
And in doing so, he may have made it harder for Planned Parenthood and other abortion providers to administer essential family planning services like cancer screenings, STI testing, well-woman exams, and contraception education to those who need it.
Trump officially approved the measure out of sight from the media, a sign of how controversial a flashpoint the issue is — not just among Americans in general, but, perhaps, within the White House as well. That's because reports recently surfaced that Trump's daughter, who now holds a formal position in his administration as assistant to the president, Ivanka Trump, had met with Planned Parenthood president Cecile Richards in January. Even Trump himself acknowledged the good work Planned Parenthood does as a Republican presidential debate in 2015, while simultaneously maintaining that he is "totally against" abortion.
Still, the apparent ambivalence toward — or even support of — Planned Parenthood among some in the Trump family did little to back it in practicality. And pro-choice advocates believe that the action Trump took Thursday is a dangerous one.
"Despite repeated promises that he would protect and invest in women's health, President Trump has once again shown that his words carry little weight," Heidi Williamson, the senior policy analyst for the Women's Health and Rights Program at the Center for American Progress, said in response, according to The New York Times. "Trump's actions are creating very real and damaging consequences for millions of women and their families, inflicting direct harm on already vulnerable communities."
Trump and his administration have also taken aim at women's access to abortion around the world. One of the president's first acts in office was sign an executive order to reinstate the Global Gag Rule, prohibiting NGOs that receive federal money from offering the procedure to patients or even educating them about it. Likewise, the failed American Health Care Act would have prohibited people on the federal Medicaid program from getting care at Planned Parenthood, pulling an important revenue source from the provider.
Between Medicaid money and Title X funding, Planned Parenthood receives $553.7 million from the federal government annually, making up about 43 percent of the organization's overall revenue, according to Mic. About a quarter of the federal money comes from Title X grants.
Losing that money would have very real consequences for Planned Parenthood — and for the millions of patients it serves.