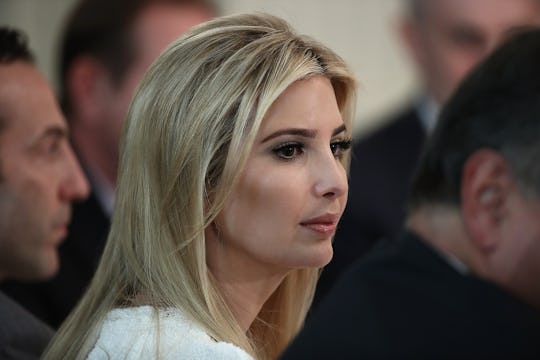 Win McNamee/Getty Images News/Getty Images
Will Ivanka Trump Advocate For Planned Parenthood?
On Thursday, Politico reported that first daughter Ivanka Trump had met with Planned Parenthood president Cecile Richards for an under-the-radar conversation back in January. For her part, Richards used the face time with President Donald Trump's daughter to discuss how Planned Parenthood really gets its federal funding and the potential ramifications of losing them. If the public had known about the meeting at the time, it may have seemed as though the women's health care provider had at least one ally in the White House. But, considering her silence about the encounter and the GOP's subsequent attempts to disrupt the flow of federal money to the entity, there's certainly no guarantee that Ivanka Trump will advocate for Planned Parenthood.
Ivanka, a self-proclaimed defender of women's rights, reportedly initiated the meeting herself. Still, she's been tight-lipped about it ever since. The White House did not respond to Romper's request for comment about whether she does, in fact, plan to defend Planned Parenthood in the future.
Ivanka's critics are skeptical she will, and there was no public indication that she opposed the the provision of the Republicans' proposed American Health Care Act (AHCA) that would have defunded Planned Parenthood completely.
In fact, Richards publicly called on Ivanka to "stand for women," in an interview with BuzzFeed News before the scheduled vote on the health care bill. During the same interview, Richards slammed Ivanka for her "deafening" silence. This was months after the two originally met and shortly before the president opted to pull the AHCA from the House floor when he realized it did not have the votes to pass.
The extent of Ivanka's influence over her father was underscored when she recently (and controversially) accepted a White House role as an unpaid adviser to the president. But she responded to the criticism that she does not do enough to challenge her father's agenda — or that she is even complicit — in an interview with CBS News' Gayle King Wednesday:
I would say not to conflate lack of public denouncement with silence. I think there are multiple ways to have your voice heard. In some cases, it's through protest and it's through going on the nightly news and talking about or denouncing every issue on which you disagree with. Other times it is quietly and directly and candidly. So where I disagree with my father, he knows it. And I express myself with total candor.
Whether or not she is sincere in the claim that she subscribes to this philosophy, Ivanka has contended with accusations that she practices a kind of faux, self-serving feminism since the campaign. For example, critics called her out for helping to devise a child care proposal that would disproportionately benefit wealthy families like her own. And even before that, she weathered accusations from a formal high-level employee at her company that she did not offer her paid maternity leave (a brand spokesperson referred to this as a "mischaracterization" in a previous email to Romper).
Of course, Ivanka Trump's personal opinion on Planned Parenthood's right to federal funding likely won't influence an entire group of lawmakers who have been after it for years because it provides abortions. Still, anyone is a much more convincing defender of women's issues when they are vocal about the issues that affect women every day. Here's hoping Ivanka takes that advice to heart.