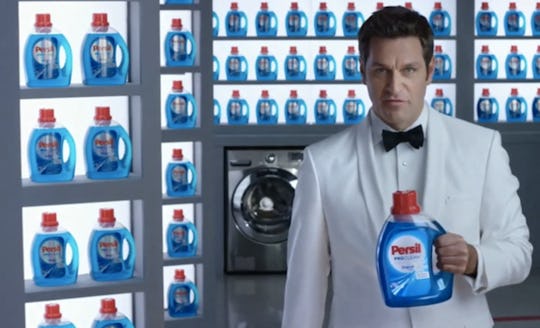 Who Is The Persil ProClean "Professional" Actor? Peter Hermann Is Dreamy Even In A White Coat
If you'd had to say ahead of time which brands would be responsible for the most compelling Super Bowl 2016 commercials, you might not have included Persil ProClean. After all, Persil has never advertised during the Super Bowl before, according to Ad Age. And then — THEN you see who the Persil ProClean "Professional" actor is, and this ad, or at least the teaser released in advance of the big game, becomes very exciting.
As the spot begins, it's not entirely clear who is featured, or what's going on, really. Where are we? The back halls of a hotel? The white dinner jacket seems to confirm that, but then, whoa, there is the need for a biometric scanner to open this door, which suggests this is not a hotel at all, or that the hotel is some sort of front, and the man whose face we haven't seen yet is not just a lost maitre d' or groom but someone with access to some top secret sh*t. It is so top secret that once you get past the biometric scan, you have to take a freight elevator whose doors recede vertically rather than horizontally to access it. Only then do we realize that the product under lock and key is Persil, and the figure Ad Age referred to as "the brand's stain-fighting super hero, 'The Professional'" selling it to us is none other than the man of your Law and Order: SVU-marathoning dreams, Peter Hermann.
Hermann's acting credits include loads of TV show appearances in addition to SVU, as well as his performance in the 2013 film Philomena, in which Hermann played Judi Dench's gay son-in-law. But Hermann's resume includes more than acting, according to IMDB: he's a Yale graduate, taught ESL and special ed for Teach for America after college, once worked as a fact-checker at Vanity Fair, and speaks — count 'em — four languages.
And on top of all of that, Hermann is married to Mariska Hargitay. Yup. Peter Hermann is the guy who won Detective Benson's heart and became the father of their three children, which means a few important things about him: 1) he must have impeccable integrity; 2) he must be absolutely, 100 percent a feminist; and 3) he must be pretty awesome in every other way, since I trust Hargitay would settle for nothing less.
Way to go, Persil, for choosing a "Professional" who seems to be winning at virtually everything.
Check out the teaser below: