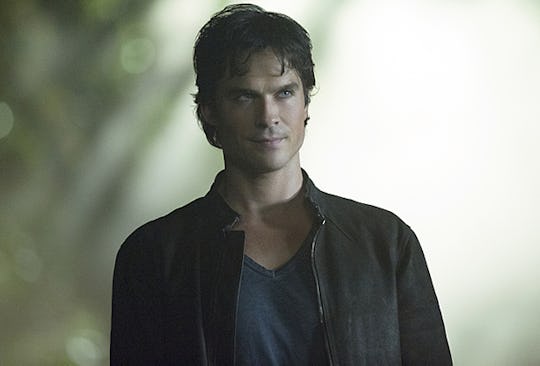 The CW
Who Is The Siren On 'The Vampire Diaries'? This Season 8 Villain Isn't Messing Around
Villains have come and gone in Mystic Falls throughout the years, but it seems The Vampire Diaries Season 8 has every intention of going out with a bang as the show kicks off its final season. (*Sobs*) And thanks to last Friday's premiere episode "Hello, Brother," fans now have at least a general idea of the type of evil the gang will be dealing with moving forward. But who is the Siren on The Vampire Diaries, exactly? As of now, her motives are not yet known, but it's clear that this character isn't messing around and has no intention of relinquishing her hold on Damon or Enzo anytime soon, unfortunately for them.
Up until now, Damon and Enzo's main purpose has been to feed the beast with the blood of wrongdoers until it was finally full. And most importantly, they haven't been acting on their own volition. According to Bonnie's research, it seems as though these sirens are known for using mind control to lure their victims to their death. So now that this creature has taken an actual human form (played by UnREAL's Nathalie Kelley), she may be strong to hunt for prey all by herself, which makes me wonder what new horrific jobs she'll have in store for her two hunky captors.
According to TVLine, Kelley's character will go by the name of Sybil and is described as being "evil herself." To further drive the point home, executive producer Julie Plec stated at Comic-Con earlier this year that this formidable foe will be the show's new take on villains since it's "rooted back all the way to ancient times." So basically, don't expect this femme fatale to go away anytime soon.
The casting breakdown for the character describes her as a manipulator who enjoys torturing her victims with "twisted games and tests for her own amusement and glorification." Sounds like pretty much what you would expect from someone who's known for being a messenger of the devil, don't you think?
Suffice to say, Damon and Enzo are in even worse trouble than I ever imagined. And even though Damon made sure to turn off his humanity in order to keep his loved ones off this creature's radar, I have a feeling she's going to find out about them anyway. Let's just hope everyone is able to make it out of this Big Bad's grasp alive. Or rather, as alive as any vampire can be.