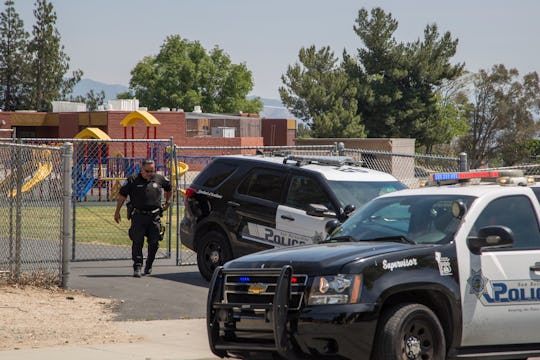 David McNew/Getty Images News/Getty Images
Who Is The Teacher In The San Bernadino Shooting?
It was an uneventful Monday at North Park Elementary School in San Bernadino, California. Much like any other day of the week, students and teachers were working together in classrooms and going about the business of their school days. That all changed when Cedric Anderson entered the school with a gun, reportedly killing two (a teacher and a student) and wounding one little boy before turning the gun on himself. Karen Elaine Smith, who was the teacher in the San Bernardino shooting, reportedly knew Anderson because he was her estranged husband, according to NBC News.
According to her four grown children, Anderson had been threatening Smith for some time. The deeply religious Navy veteran had believed Smith, a special education teacher, was unfaithful and the two were separated. When it became clear that a reconciliation was not in the works, Anderson reportedly became increasingly agitated, according to NBC News. So much so that Smith began staying at the homes of family members in an effort to avoid him, her son, Adam Smith, told NBC Los Angeles. While the 53-year-old mother of four and grandmother of three was allegedly afraid of Anderson, her children insisted she would never have gone to school that morning if she thought her attendance would have put the students in any danger.
Unfortunately, Anderson did make the choice to track Smith down at North Park Elementary. Security cameras found him trying to enter through a locked door before going through the office. Because he was a spouse of one of the teachers, and the administration had not been made aware that there were any issues with Anderson, he was allowed to enter Smith's classroom unattended. There he shot and killed Smith, as well as 8-year-old Jonathan Martinez, according to USA Today. Another unidentified 9-year-old boy was also wounded by Anderson before he turned his gun on himself and ended his own life.
Smith's four grown children are understandably devastated. They told NBC News that their mother had home-schooled them for eight years before making the decision to become a special education teacher. Her daughter, Jennifer Smith, said that her mother was her "rock" and her "best friend," and said that working with children, both her own and her students, had brought Smith great joy:
Oftentimes former students would contact her and thank her for helping them graduate from high school. Children were the light of her world and their success was hers.
Marie Cabreras, a parent of two young children who attend North Park Elementary, as well as an older child who was a student of Smith's, told the Associated Press that Smith had a magical, loving way with children:
She was an excellent teacher. She loved on kids. Her whole life was surrounded around kids and helping them, and helping them build a future.
It's clear that Smith will be missed by both her students and her family.