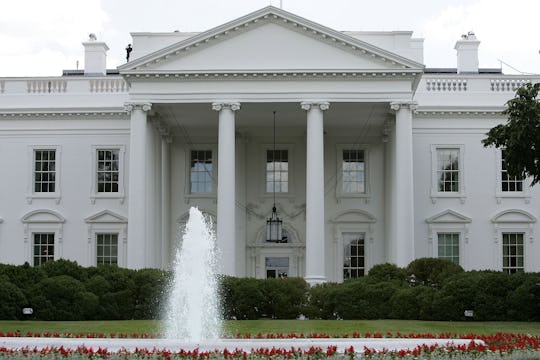 Alex Wong/Getty Images News/Getty Images
Who Is The White House Person Of Interest?
The current investigation into Russia's involvement with the 2016 Presidential Election has been confusing to say the least. Every day, it seems as if more and more information is released pertaining to Russia, President Donald Trump, and the involvement of others. And in the past week, with the president's firing of FBI Director James Comey, the investigation has only just begun. To top off a very eventful week, the Washington Post reported on Friday that a current White House official has been identified as a "significant person of interest" in the investigation. This leads to one major question — who is the White House person of interest being investigated?
Here's what you need to know. According to the Washington Post, the current investigation between Russia and the Trump campaign has identified this significant person of interest as someone currently working in the White House. This means that the investigation is reaching higher levels of government and is becoming more active. A person of interest is someone who is possibly involved with something, like a crime, but has not yet been charged or arrested. Therefore, there is someone in the White House who possibly could have played a role in this.
The White House did not respond to Romper's request for comment.
The name of who this potential person of interest has not yet been released, but there are a few key details The person is, according to the Washington Post, a senior White House adviser that is "someone close to the president." According to The Guardian, White House Press Secretary Sean Spicer did not deny the report, saying, "As the President has stated before - a thorough investigation will confirm that there was no collusion between the campaign and any foreign entity."
But the description of the person of interest narrows down the selection as to who it might be. According to the Washington Post, there are only three current officials in the Trump administration with acknowledged contacts to Russian officials: Attorney General Jeff Sessions, Secretary of State Rex Tillerson, and Trump's son-in-law and senior adviser Jared Kushner. People are already speculating on Twitter that this person could allegedly be Kushner.
But really, being named a person of interest is an incredibly vague label, and could mean anything. "It's a way for police and prosecutors to disguise that they really have some grounds to suspect that a person played some role in a crime," Paul Rothstein, a professor of law at Georgetown University Law Center in Washington, D.C. told APM Reports. "But they don't feel they have enough evidence that they want to essentially perhaps defame the person by suggesting to the public that this person has committed a crime or is a full suspect of the crime."
Given the unpredictability of this investigation, it is unclear whether or not this person of interest will actually mean anything in the grand scheme of things.