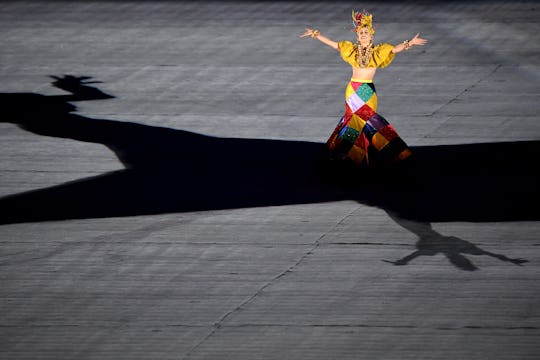 Pascal Le Segretain/Getty Images Sport/Getty Images
Who Is The Woman In The Colorful Skirt Singing At The Closing Ceremony?
The Olympic closing ceremony was held on Sunday night, marking the end of the Rio Games and the beginning of the road to the 2020 Olympic games in Tokyo, Japan. An extravagant firework display kicked off the long goodbye, as rockets shot high atop the Maracanã Stadium. While the closing ceremony pulled out all the stops, from dancers in colorful costumes and light displays that lit up the stadium grounds, it was one performer in particular who left viewers wondering, "Who is the woman in the colorful skirt singing at the closing ceremony?"
It can be argued that the Olympics opening ceremony left a little to be desired. Yes, Gisele walking an endless runway and the parade of nations are always a highlight; but the ceremony seemed long, drawn out, and (many felt) anything but awe-inspiring. The same cannot be said for the closing ceremony, as the Games finally payed tribute to Carnivale with an amazing singer dressed in a traditional outfit as the stadium floor exploded with colors of bright yellow and red.
Turns out, the singer is Brazilian Samba star Roberta Sá, who was paying homage to the mythical Brazilian actress, singer, and dancer Carmen Miranda. Miranda was a Somba dancer, singer, Broadway actress, and film star popular in the 1930s until she died in 1955.
Carmen Miranda, of course, was most well-known for her huge, fruit-salad hats and high platform shoes, but it was her endless talent that arguably brought Brazilian Samba to the clueless masses. Miranda's death, a reported heart attack, was a shock to Brazil and the world, as she had just performed mere moments prior.
Perpetual motion, it's said, was Miranda's trademark; a motion that Roberta Sá seemed to embody effortlessly during the closing ceremony. The pop icon, who broke out as a public figure in 2002 during a performance on the television show Fama, seemed to channel the iconic singer, dancer, and actress, while simultaneously adding her own personality and flair that has become just as iconic. Sá is in the midst of a global tour, called Delirium, so it seems like much like Miranda, Sá can do it all simultaneously, leaving us in awe of not only her abilities, but her drive.
Perhaps that is one of the best parts about the Olympics; viewers from around the world get to learn new and important things about the host country. Viewers may not have known about Carmen Miranda prior to the Rio Olympics, and they may not have known about Roberta Sá either, but there's no denying that we all know about both now.