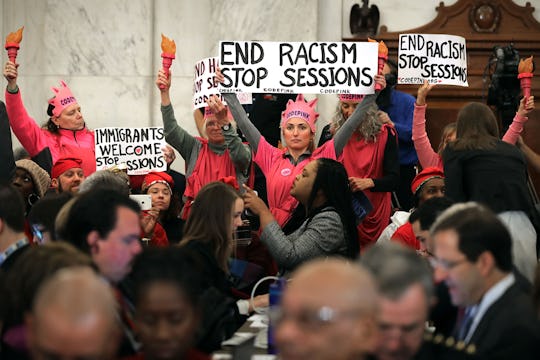 Chip Somodevilla/Getty Images News/Getty Images
Woman Who Laughed At Jeff Sessions Could Go To Prison
Back in January, during Jeff Sessions' confirmation hearing as attorney general of the U.S. Department of Justice, a woman laughed. She said it was more like a giggle. But federal prosecutors claimed she disrupted the proceedings, according to The New York Times. Now she may end up serving jail time for what a fellow protester described as a "reflexive gasp." So who is the woman who could face criminal charges for laughing at Jeff Sessions? Desiree Fairooz, an activist with the grassroots anti-war group Code Pink, could spend up to 12 months in prison for her alleged offense.
A jury convicted Fairooz on Wednesday afternoon of disorderly conduct and parading or demonstrating on Capitol grounds, according to the New York Times. Fairooz, a Virginia-based activist, was arrested by a rookie cop during the confirmation earlier this year after she laughed at a claim that now-Attorney General Sessions has a history of promoting equal rights. The verdict was handed down less than 24 hours after a two-day trial in U.S. Superior Court in Washington, D.C. concluded on Tuesday, the Times reported.
The jury also convicted two other Code Pink activists on charges of parading or demonstrating, according to the Times. Romper reached out to Code Pink for comment but has not heard back.
Fairooz, a veteran member of Code Pink, has a long history of political protest. Most notably, in 2007, Fairooz approached then Secretary of State Condoleezza Rice at the beginning of a congressional hearing with her hands covered in fake blood, according to Democracy Now!. The fake blood, she told Rice, represented the blood "of millions of Iraqis" killed at the hands of the Bush administration.
According to Vox, Fairooz, who attended the Jan. 10 confirmation hearing with a group of Code Pink protesters, let out a laugh after Republican Sen. Richard Shelby of Alabama said that Sessions' record of "treating all Americans equally under the law is clear and well-documented." But, as Vox pointed out, the opposite is true: He has a history of opposing the Voting Rights Act and also voted against a hate crime bill that would've protected the LGBTQ community. Not exactly a record of "treating all Americans equally under law," huh?
Fairooz described her reaction as a "giggle," the New York Times reported. Code Pink's campaign director Ariel Gold told the newspaper it was more like a "reflexive gasp." But according to the Huffington Post, federal prosecutors characterized Fairooz's reaction as a "scoff," "outburst," or "burst" of laughter loud enough to turn heads, which they said was enough to file criminal charges against the 61-year-old activist.
Jurors who spoke with HuffPost on the condition of anonymity said that Fairooz was not convicted for laughing at Shelby. Instead, they found her guilty for her actions after she was arrested. "Her actions," by the way, refer to Fairooz asking the arresting officer, Katherine Coronado, why she was being arrested in the first place.
Some jurors said Fairooz should have never been removed from the hearing for laughing, but the way the laws are written, their hands were "tied." Three jurors told HuffPost that they felt "forced" into convicting Fairooz.
Why the jury found Fairooz guilty actually doesn't matter as much as the fact that federal prosecutors decided to pursue charges because someone laughed at their now boss. As Vox noted, that doesn't exactly look good for the country's top law enforcement agency.