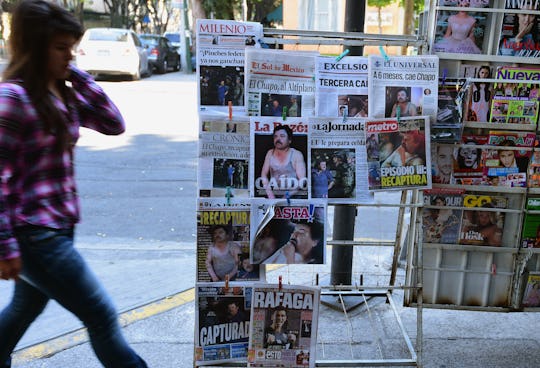 ALFREDO ESTRELLA/AFP/Getty Images
Who Is Vicente Bermudez Zacarias? The 'El Chapo' Judge Was Killed While Jogging
It's difficult to imagine what it must be like to be a judge presiding over the trial of one of the worst Mexican drug lords in modern history. Imagine what it would be like, to know you have to do your duty, but to be justifiably terrified of the consequences. On Monday, Judge Vicente Bermudez Zacarias, the judge who was presiding over the infamous "El Chapo" trial, fell victim to the consequences of that job, after being murdered while jogging outside his home.
Zacarias, a 37-year-old native of Mexico, was presiding over the case of Joaquin "El Chapo" Guzman, when he was ambushed by two men while exercising outside the gated community of Metepec, which is approximately 30 miles outside of Mexico City. One of the men shot Zacarias in the head at close range and the two fled in a vehicle together soon after. The judge was rushed to the hospital but died of his injuries. The assassination was caught on video, and Mexican President Enrique Nieto has ordered the Attorney General's office to take over the investigation. According to a newspaper report in Mexico City, the judge was not offered any sort of protection while presiding over the Guzman case.
Zacarias became a district federal judge in 2013, and sat on the Fifth Tribunal of appeals and civil judgments for the State of Mexico. He had recently suspended an extradition to the United States for Guzman to face drug-trafficking charges. Guzman, who is the head of the Sinaloa Cartel, has already escaped high-security prisons in Mexico twice; He was most recently recaptured after escaping the Altiplano maximum-security prison last week.
While it is still unknown who is responsible for Zacarias' murder, The New York Post reports that Guzman's Sinaloa Cartel has a long-standing reputation for executing officials who stand in its way.
Zacarias was presiding over more than one potentially dangerous case, and he recently approved the extradition of another fabled cartel member, Abigail Gonzalez Valencia, also known as "Los Cuinis." Valencia was not considered a big player in the cartel world until he was captured. Since his capture (when he reportedly offered the soldiers who arrested him three million dollars to keep his face off the television), authorities believe he is much higher up than originally anticipated.
Supreme Court president Luis Maria Aguilar Morales spoke of Zacarias' murder on Monday, and reminded local authorities that federal judges deserve protection against possible aggression:
Federal judges are people who dedicate their lives, their personal, moral and physical integrity to serve federal justice in our country. They require security and peace conditions that guarantee their independence because in an atmosphere of peace and security, judges can reflect on their decisions.
What Zacarias' decision would have been in the cases of two drug cartel heavy-hitters, we will now never know. For the moment, those who knew and loved him remain in mourning.