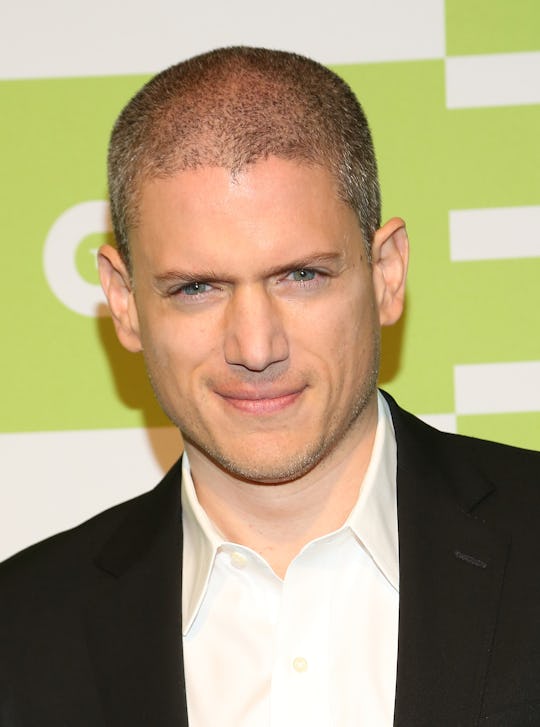 Monica Schipper/Getty Images Entertainment/Getty Images
Who Is Wentworth Miller Dating? He Keeps His Private Life Private
Prison Break actor Wentworth Miller is making headlines lately, not because of his career, but because he's once again using his celebrity for a good cause. Recently subjected to a body-shaming meme, Miller took to Facebook to defend himself, explaining that his 2010 weight gain was due to depression. This isn't the first time he's opened up about his personal life; in 2013 Miller came out as gay when criticizing Russia's anti-LGBT laws. So is this silver fox and champion of the voiceless available or what? Who is Wentworth Miller dating? It's a big mystery.
Miller has never been one to make his relationships public, so all we have to go on is gossip, really. The star was linked to Brothers & Sisters actor Luke Macfarlane in 2007, first by Perez Hilton and then by Just Jared. Note that this was six years before Miller came out as gay, so this wasn't exactly a cool move, even if Hilton's sources were "very very good" and Just Jared did have photographs of the pair spending the day together at Starbucks, an art gallery, and a few other spots (yes, they were literally stalked by paparazzi for an entire day). As a quick reminder, if someone has not come out as gay publicly, it is nobody else's right to do it for them.
Miller came out in a pretty epic way; he was invited to be a guest of honor at the St. Petersburg International Film Festival, and declined because of Russia's ban on "propaganda of nontraditional sexual relations to minors," which basically means it's illegal to be gay in Russia. He then shared the letter with GLAAD, which read, in part:
I am deeply troubled by the current attitude toward and treatment of gay men and women by the Russian government. The situation is in no way acceptable, and I cannot in good conscience participate in a celebratory occasion hosted by a country where people like myself are being systematically denied their basic right to live and love openly.
Miller spoke at a Human Rights Campaign gala soon after coming out, where he opened up about a teenage suicide attempt, and how, as an adult, he feared that coming out would negatively impact his career.
It's striking that Miller can at once be so private, yet so open. After hiding his sexual orientation for years, he came out in order to speak on behalf of LGBT Russians who are being oppressed. And when he was shamed for his weight, which was nobody's business, he took it as an opportunity to highlight how depression can often cause people to look to food (or worse) for comfort.
It seems that Miller will share exactly what information he feels is relevant to the public — and nothing more. Those looking to find out if he's in a relationship are, unfortunately, out of luck. But if anyone out there is interested in filling the position, the Prison Break revival begins shooting next week, so maybe hang out at the Starbucks near the set? It certainly can't hurt.