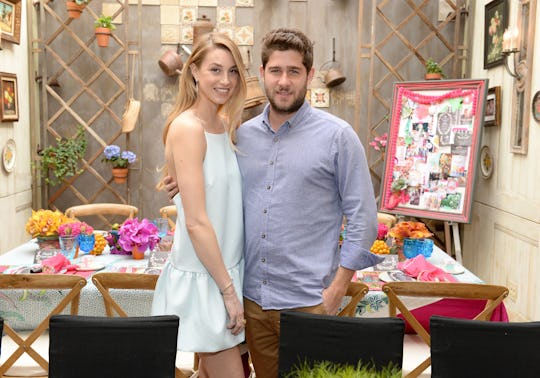 Michael Kovac/Getty Images Entertainment/Getty Images
Whitney Port & Tim Rosenman Are #ParentsToBeGoals
I think babies are very on trend in 2017, thanks to big name celebs looking adorable in their pregnancy announcements (all hail Queen Bey). It's only February, after all, and while 2016 seemed to be the year so many beloved celebrities decided to leave us, 2017 is all about replenishment. Now, it looks as though Whitney Port is pregnant, just like her former castmate Lauren Conrad from The Hills. So what has the girl been up to these last few years? Who is Whitney Port married to? And most importantly of all... will she and Lauren Conrad do baby dates?
Former Hills star/fashion designer Port announced her pregnancy the way basically everyone announces their pregnancies these days; in her underwear on Instagram (because obviously). She shared a picture of herself with a slightly visible baby bump and some flattering back lighting with the caption:
Oh hey! Just standing by the window in my underwear, with a BABY in my belly!!! DM me if you know what I'm supposed to do with this thing for how ever many years I'm supposed to be in charge. Check out my blog for a little letter from me & Timmy and for more behind the scenes of this crazy journey!!!! We are sooooo excited!!!!
This "Timmy" she is speaking of is presumably her husband, television producer Tim Rosenman. The two have been married since 2015 and together since 2011, when they met on the set of TV reality series The City in New York. Rosenman was an associate producer of the show, which ran from 2008-2010, and the two didn't become romantically involved until after it ended. Port told The Daily Mail at the time that she had been the one to make the first move:
I definitely made the first move. I got his phone number and made up some excuse why I needed to reach him for something... I kind of felt he was never gonna try it with me. He's not shy, but I know in his past with girls he had difficult making the first move.
In a blog post she shared on Thursday, Port shared her theory on how the love she and her husband share will spill over to their little bundle of joy:
When two people love each other so much and the love becomes too great to fit inside both people, it spills over into a THIRD person. This is how I am going to explain where babies come from to the little baby that is now growing inside my belly because Timmy and I are PREGNANT!
As exciting as Port's pregnancy news is, the fact that she and Lauren Conrad are pregnant at the same time is just the cherry on all of this delicious cake. Conrad and husband William Tell are expecting their first baby this year as well. Now take a moment to consider how stylish those babies will be. Sigh.
Keep it coming, 2017. These announcements are way more fun than the sad losses of 2016.