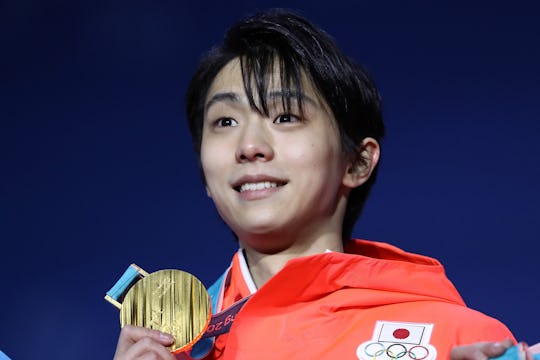 Ryan Pierse/Getty Images Sport/Getty Images
Who Is Yuzuru Hanyu? He Just Broke A Serious Record At The 2018 Winter Games
Anyone watching the Winter Olympics probably looks forward to the figure skating competition as much as I do. It's all about the pageantry, the artistry, the drama. The set backs and the comebacks, the dreams dashed by the slightest slip of the foot and dreams saved by a well-landed quadruple jump. And one skater embodies all of these things at the 2018 Winter Olympics in PyengChang; Yuzuru Hanyu. If you're wondering who Yuzuru Hanyu is, you probably haven't had a chance to watch the Winter Games at this point. Because he's basically ruling the ice in PyeongChang.
The 23-year-old figure skater from Japan just broke a 66-year-old record by winning two gold medals at the Olympics back-to-back. And he did it despite a seriously injured ankle that prevented him from performing for four months, a lifetime for Olympians who are expected to bring their A-game to the biggest sporting event in the world. The stakes were especially high for Hanyu, who won gold at the 2014 Winter Games in Sochi and was back this year to defend his title, a feat no man has managed since Dick Button won gold in 1948 and 1952 respectively. And yet, 66 years later, Hanyu pulled it off on an injured ankle, no less.
It's even more impressive that the Japanese skater broke the record in the increasingly challenging field of men's figure skating; as For The Win noted, Hanyu won gold in Sochi by completing two double quadruple jumps, neither of which were in combination. This time around, Hanyu completed a total of four double quadruple jumps, two of which were in a combination.
Hanyu won gold in both his long and short programs, and his enthusiastic fans in the audience could barely contain their joy. After he won his long program, fans tossed Winnie the Pooh stuffed animals on the ice because they're his absolute favorite. Hanyu even posed with former Olympic figure skating medalist Kurt Browning and Winnie the Pooh back in 2013.
Fans didn't just throw their Winnie the Pooh stuffed animals at the ice for Hanyu; they cried, and screamed, and cried while screaming. But Hanyu is refreshingly modest about his colossal achievements. He told The Washington Post:
Some have said I have been the pioneer, but I would like to negate that 100 percent. I think I have a lot of shortcomings. Really, I cannot commend myself.
The Japanese figure skater might be modest, but he's also mindful of how close he came to not being able to perform at the Winter Games in PyeongChang this year. His ankle was not healing as well as he hoped, and he worried he might miss the Olympics. Fortunately, Hanyu worked hard to rehabilitate his ankle and focused on visualizing his routine.
When he won the gold, Hanyu understandably wept with relief and triumph. On the shoulder of his good friend and fellow skater, Spanish Olympic bronze medalist Javier Fernández, his partner in training in Toronto, Canada.
That is, perhaps, another secret to Hanyu's success; he hasn't just made figure skating a sports endeavor but a lifestyle. As Fernández told Reuters back in 2015, the two friends have become similar to life partners through the years, supporting each other and celebrating each success together:
With 'Yuzu,' we are everything, we are friends, we are teammates, at some point we have to be rivals. It's like having a wife, your wife is your friend, your wife is everything, but it depends on the time. When we are on the ice, we are competing against each other, but when the competition is done, we are friends again and we work together again.
Yuzuru Hanyu isn't just breaking records in men's figure skating at the 2018 Winter Olympics, he's winning hearts.
And a really massive collection of Winnie the Poohs.