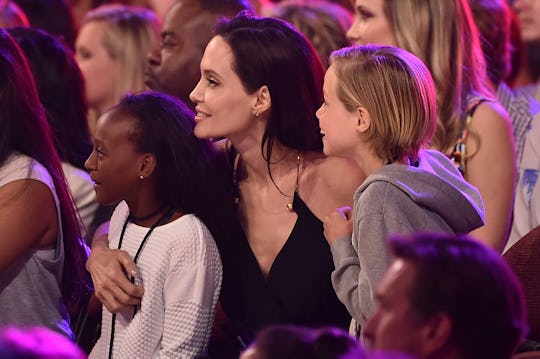 Kevin Winter/Getty Images Entertainment/Getty Images
Zahara Jolie-Pitt's Alleged Biological Mom Speaks
In the wake of Angelina Jolie and Brad Pitt's divorce, The Daily Mail reported Tuesday that Zahara Jolie-Pitt's biological mother supposedly wants to reconnect with her daughter. Jolie adopted then-6-month-old Zahara in 2005, and at the time it was assumed by American tabloids, such as People, that the then-newborn's parents had both died of AIDS. According to The Daily Mail, Zahara actually isn't an orphan — and her mother would allegedly like to connect with her. Romper's request for comment from Jolie's legal rep was not immediately returned.
The reported birth mother, Mentewab Dawit Lebiso, allegedly still lives in Ethiopia. "'I just want her to know that I am alive and here and long to be able to speak with her. I do not want my daughter back but just to be in contact with her and be able to call her up and talk with her," she told reporters.
This is not the first time Lebiso has spoken to the press. In 2007, she spoke to The Daily Mail about how she was forced to give Zahara up for adoption, in part by her mother, after being raped. At the time she said, "I have never disputed the adoption of my baby by Angelina Jolie. I think my daughter is a very fortunate human being to be adopted by a world famous lady. I wish them both all the success they deserve."
The alleged birth mother's request comes at a tough time for the Jolie-Pitt family, which just recently solidified a divorce and custody agreement. But it doesn't appear that Zahara's mother wants to meddle too much in their family affairs. The alleged biological mother said of the now-12-year-old girl Zahara:
I would like Zahara to know she has a mother who loves her as much as Angelina. I know her life is with Angelina is in another country and she speaks another language than me. She has a life that I could never give her, but I would still like to have some contact. I would like to see her face. She has grown into a beautiful woman, and I am so proud of her. My heart bursts because I am so proud.
Lebiso added that she knows Zahara has a life with the Hollywood stars and doesn't want anything more than simple contact with her, though when an adopted child is just 12 years old, that's tricky for everyone involved.
Adopting children from foreign countries is rife with issues, both emotional and logistical. Given that Jolie is in the spotlight obviously makes it easier for Zahara's mother to find her daughter — and see her in the press, too. That doesn't make it easier. In fact, it might make it all the more complicated for the biological mother and daughter to ever get in touch, if Zahara one day wants to.