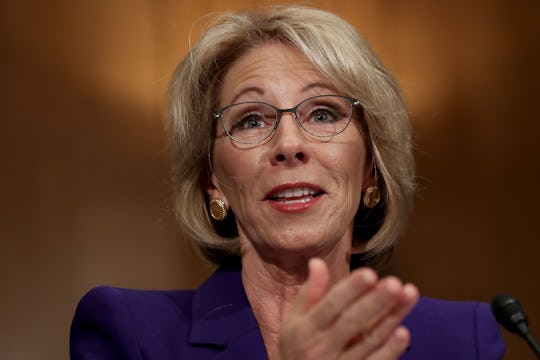 Chip Somodevilla/Getty Images News/Getty Images
If DeVos Gets The Boot, Who Will Replace Her?
One vote. President Trump's nominee for secretary of Education, Betsy DeVos, is just one vote away from losing her potential place in Trump's Cabinet. On the heels of news that two Republican senators confirmed they would not be voting for DeVos as secretary of education — after their offices were flooded with "literally thousands" of concerned citizens — DeVos' fate hangs on the backs of the remaining GOP. If just one more senator can be swayed, we could be looking for someone to take DeVos' place as education secretary.
Republican Sens. Susan Collins from Maine and Lisa Murkowski from Alaska went public on Wednesday to say they would oppose Michigan billionaire philanthropist Betsy DeVos' bid to join Trump's Cabinet. Following a turbulent confirmation hearing, where DeVos was clearly ill-prepared to answer any questions beyond those referring to charter schools and school vouchers (the only two issues she seemed interested in), Senate Democrats are expected to vote her down unanimously.
The general feeling appears to be that DeVos has little to no experience in dealing with rural or public schools, and is simply not equipped to become the next head of the Education Department. If all Democratic senators join Sens. Collins and Murkowski in opposing DeVos, the vote would be split 51-50, with Vice President Mike Pence as the tie breaker. Unless another GOP senator can be swung.
Despite the fact that White House Press Secretary Sean Spicer told reporters in his daily briefing that he has "100 percent confidence she will be the next secretary of education," DeVos' precarious position is unprecedented, not to mention leaving Trump's Cabinet in a shroud of uncertainty. If DeVos' fails to be confirmed by the Senate, who might take her spot?
Before Betsy DeVos was making headlines, rumors of President Trump's potential choices for education secretary swirled around the internet. If DeVos fails, might he dip back into his original pool?
Michelle Rhee
The former D.C. Public Schools Chancellor was another education-reform champion with a penchant for charter schools and private school vouchers. After stepping down in 2010, Rhee began advising Florida Gov. Rick Scott on public school policy and headed up the charter school network St. Hope Public Schools, founded by her husband.
Eva Moskowitz
One thing we know for sure: President Trump is a fan of charter schools. He was reportedly considering Eva Moskowitz, the founder of the Success Academy charter school chain, as secretary of education before settling on DeVos. New Yorker Moskowitz is a Democrat who said she voted for former presidential candidate Hillary Clinton, and while she may have praised Trump for championing charter schools, she admitted she was "disappointed" when he won the election.
If DeVos isn't confirmed, Trump could be heading back to the drawing board. And it's anybody's guess how long that process could take.