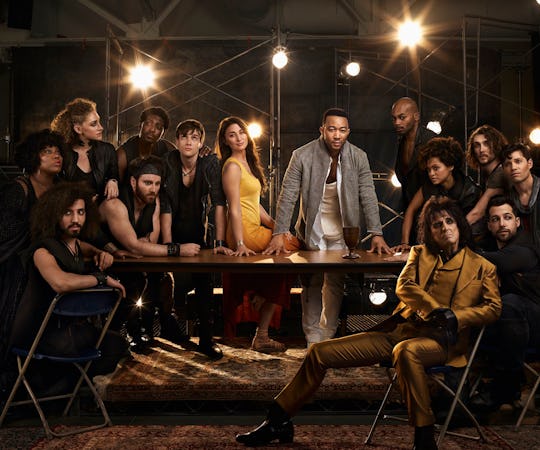 James Dimmock/NBC)
'Jesus Christ Superstar Live!' Is Welcoming A Talented Newcomer To Its Ranks
You might know of the main key players in the story of Jesus' crucifixion and Jesus Christ Superstar, but there's more to the story than just Jesus, Judas, and Mary Magdalene, especially when it comes to NBC's upcoming Jesus Christ Superstar Live!. There's also Annas — one of the key antagonists who builds a case against Jesus to have everyone else turn against him. But who plays Annas on Jesus Christ Superstar Live!? Jin Ha is a relatively new actor, but he's already made his mark by appearing in Hamilton in 2016, which is also the year he graduated from the New York University Tisch School of the Arts with a Master of Fine Arts in acting, so he'd been working on honing his talent for literal years before hitting it big with Hamilton.
Now, just two years after graduating from the program, he's going to be one of the more important characters in the Jesus Christ Superstar Live! televised concert, and he's earned the role. He also appeared on Broadway in M. Butterfly in 2017 and all of this before he even turned 30, since the actor is still just 27 years old, believe it or not. According to his personal website, Ha is also experienced in photography, which had been a passion for the actor when he was living in South Korea, and describes himself an "artist and activist based in New York City" with acting skills, but a "curiosity [that] stretches beyond the one medium."
Ha spoke to Out magazine in October 2017 about growing up in different states and even different countries, including South Korea and China while his parents worked to afford to put him through some more upper-class schooling. "I grew up washing dishes, busing tables, and watching my parents work day and night to put me through school," he said in the interview. Later, he saw his education at Columbia University before he attended NYU, as a learning experience of his own culture. "If I were to sum it up, college for me was exploring my identity as an Asian American," he added. "What is my heritage? Where do I fit in?" These days, it seems like Ha is close to his family, and especially so with his mom, who is featured on his Instagram from time to time.
He also describes himself in his Instagram bio as an activist in addition to an actor and all of his Black Lives Matter and pro-female empowerment posts are definitely a testament to that. It honestly just makes him even more likable. Before he landed his first roles in college and beyond, Ha worked as a production office intern on the set of Gossip Girl in 2012, according to his LinkedIn profile, so he's been all about show business for years, even if he wasn't yet appearing in any big productions himself.
And on Instagram, he honestly seems like he's a lot of fun to work with. He's been posting different "trick shots" on his profile, which involve throwing something small into a makeshift basket without looking, and he does it pretty much everywhere, from his own apartment to NYU or on-set at the different shows he's been in.
Along with Ha, fellow Hamilton alum Brandon Victor Dixon is also going to be a part of Jesus Christ Superstar Live!, though this is still a pretty big deal for the up and coming theater actor. Given the nature of the production and the fact that it's going to be broadcast like from a concert stage setting, it could easily lead to more work for the already talented actor.
Check out Romper's new video series, Romper's Doula Diaries:
Watch full episodes of Romper's Doula Diaries on Facebook Watch.