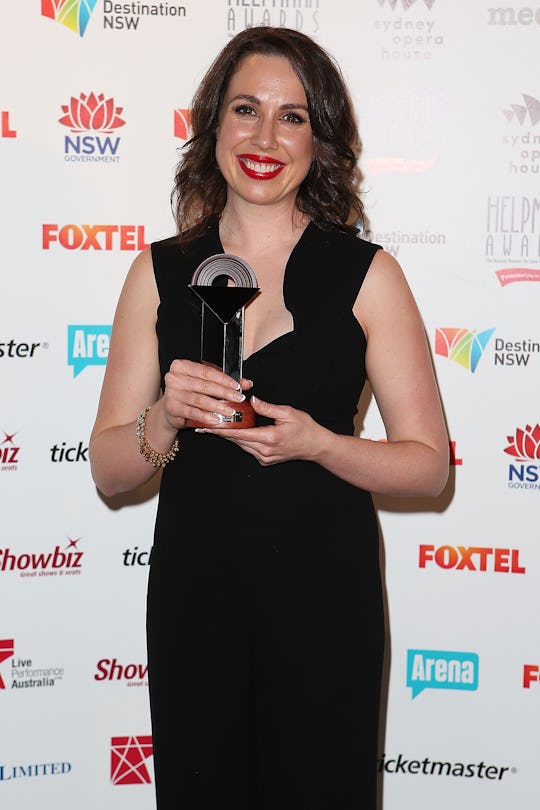 Brendon Thorne/Getty Images Entertainment/Getty Images
Here's Why The Star Of 'The Letdown' May Look So Familiar
Regardless of where you're from, chances are you can painfully relate to the moms of The Letdown, which began streaming on Netflix on April 21. Although it certainly helps that the actress who plays Audrey on The Letdown, Alison Bell, makes the struggles of new parenthood feel so real, which is a credit to her amazing talents as an actor.
In real life, the Australian stage and TV actress is mom to her four-year-old son, Augustus, with her partner John Leary, who also happens to be an actor and writer. Even before she became a parent, though, Bell had helped develop the idea of The Letdown as a series, and it makes sense now how she can so effortlessly portray this struggling and sometimes frazzled new mom on the show.
Back in 2016 when The Letdown was a brand new series in Australia and she had hopes that it would be picked up for more seasons, Bell spoke to The Sydney Morning Herald about her idea to make a show that felt more real than any other TV show or movie she'd seen before in regards to new motherhood. "I was watching what was happening to [my friends] in the workforce, in life, and how hard they were working in terms of parenting and it just started to really shake me – I was like, 'why do we never see this on screen? Ever?'" Bell said at the time.
She then set out to write the pilot with co-creator Sarah Scheller in a way that was both realistic and comedic. By all accounts, it definitely highlights the reality of being a new mom. But as far as Bell's career goes, she has a ton of experience in other arenas, in addition to helping create, write, and star in the TV show that has Netflix marathon watchers wanting more.
Bell graduated from the Victorian College of the Arts in 2004 and went on to act and star in a number of theater productions, including Who's Afraid of Virginia Woolf?, Sleeping Beauty, and Doubt. Before the film was released as an adaptation of the play, Bell earned a Helpmann Award for Best Supporting Female Actor in Doubt and eventually a Green Room Award for Best Female Actor overall for her work in several different productions.
Some fans might already be familiar with her work in TV, though, as she was previously a lead in the Australian ABC network TV show Laid and also appeared in an episode of HBO's The Leftovers. Where most of Bell's work in theater has been more serious and dramatic, however, The Letdown has given her the outlet to embrace a more comedic side of her talents on-screen. "Our stories come from anecdotes of our own lives and our friends' lives and our families' lives, from people we know or have heard of," she told TheAge.com in 2017. "We did heaps of research, but it really comes from us telling each other stories and trying to make each other laugh."
Bell also said that in writing The Letdown she tried to allow her own experiences to shine through since — like that of her character in the show — her own life is "a series of laughing and crying. It's joy and despair and everything in between." The same can probably be said for most parents, both new to the game and those who are more seasoned veterans, which is probably why the series has proven to be so successful.
Check out Romper's new video series, Bearing The Motherload, where disagreeing parents from different sides of an issue sit down with a mediator and talk about how to support (and not judge) each other's parenting perspectives. New episodes air Mondays on Facebook.