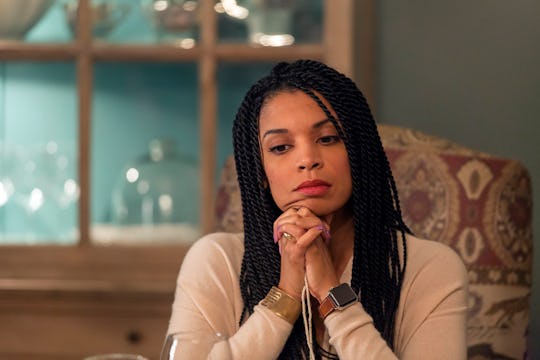 Ron Batzdorff/NBC
Who Plays Beth On 'This Is Us'? Susan Kelechi Watson Has Had Comedy Experience
If you've been watching This Is Us and realized that you know Beth, Randall's wife, from somewhere, but you just can't place her, that's probably because you might know her from somewhere totally unlike the show she currently co-stars on. The actress actually spent two years working on Louie and has even appeared in the new HBO comedy, Divorce. That alone proves that she already had some solid TV credits to her name before making her way into our hearts as Beth. So who plays Beth on This Is Us? Susan Kelechi Watson most recently appeared in several episodes of The Blacklist, and then one episode of Divorce, but Watson has been making a name and face for herself for the past 12 or so years.
This Is Us is a drama at heart, with plenty of tear-jerking moments that fans have come to expect and somehow look forward to. But it's also a comedy when it needs to be, so that when something emotionally heavy goes down in an episode, fans can be granted a little levity to help lighten the mood. (Otherwise, there would just be a ton of crying all the time.) And when you have an actress who has been around comedy enough to be able to help bring some of that much-needed humor to light, you're kind of lucky. Such is the case with what Watson brings to the table each and every time she appears on screen.
Watson studied theater and dance and graduated from the School of Fine Arts at Howard University, after which she went on to work onstage rather than in front of the camera, but eventually, she would go on to do just that. Then there's the fact that...
She Gets Just As Emotional As Everyone Else While Watching This Is Us
During a recent Facebook Q&A session, Watson answered several fan questions about her role on This Is Us and revealed that the cast gets just as emotional as the fans do while watching the series. But Watson said that most recently, she broke down while watching the scene where Kevin comforts a widow in her kitchen while relaying his own story of losing his father. In her response, Watson said, "That scene got me in the gut!" I'm right there with you.
She Helped Break Down Race Barriers On Louie
When Watson auditioned for Louie in 2012, she went into it with the idea in her head that she wouldn't be playing Louie's wife or ex-wife, since his kids in the show were very much white themselves. But after she read for a part on the show, she learned that playing Louie's ex-wife was exactly what she would be doing. When they were casting for the role, there wasn't a race in mind for the part, and Watson just had the "it quality" that everyone was looking for. During her time on the show, she absolutely killed it too, and she told Essence magazine that she found the casting choice brilliant.
She Knows When To Bust Out The Jokes
During the Facebook Q&A, Watson also revealed that sometimes, after a particularly heavy scene, the cast would sometimes bring themselves back by joking around. Even if some of them needed to walk it off and take a minute to feel like themselves again, Watson said that some of her fellow actors could legit be stand-up comedians. Something tells me that she might be able to be included in that observation herself.
She Worked On Broadway After College
After college, Watson worked on Broadway for a little while, as actors tend to do, and it makes plenty of sense since the actress also has dance experience. She played Juliet Lapin in the Broadway production of A Naked Girl On the Appian Way, about a couple whose lives are upended when their adult children return home after studying abroad, ready to voice their personal revelations and secrets.
Her Spare Time Is Dedicated To Other People
As if you needed more of a reason to love Watson, she recently told Blackfilm.com that in her spare time she tries to help with different charities whenever she can. (Like I said, she's pretty great!)
Not that she gets a lot of free time these days, especially now that This Is Us has become so popular. Beth on This Is Us might not be one of the main siblings, but Watson has done well in perfecting the character to make her hold her own in an ensemble cast that features all different kinds of lovable characters.