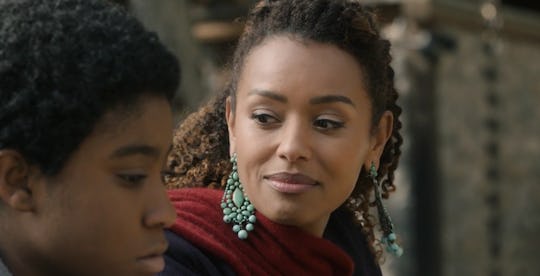 NBC
Beth's Cousin On 'This Is Us' Will Have An Important Role To Play In Season 3
The This Is Us Season 2 finale threw a lot of curveballs at fans. First there was the introduction of Jack as an old man (had he not tragically died in the house fire). Then there were the various flash-forwards, teasing a few mysteries to come. And finally, there was Toby and Kate's wedding, which allowed fans to meet Beth's awesome cousin, Zoe. But who plays Beth's cousin Zoe on This Is Us? Seeing as how Zoe and Kevin develop a romantic relationship in the near future, you're going to want to know as much about this person as possible — that includes the star portraying her.
If the actress looks familiar to you, then you might have already seen Melanie Liburd's work in the former Netflix series Gypsy or perhaps you remember her blink-and-you'll-miss-it role in Game of Thrones Season 6, in which she played another red priestess, similar to the ever popular Melisandre. She was also in the short-lived FOX comedy The Grinder and was a big part of Syfy's Dark Matter.
Suffice to say, Liburd has been part of the acting world for almost 10 years, though according to Just Jared, who spoke to her back in June 2017, she may have been acting sooner had she not gone to school beforehand to earn a B.A. Honors degree in fashion. According to the interview, though, she already had acting in her blood, considering that Jason Priestley is her cousin, Remember him? The blue-eyed staple of the original 90210? He also directed an episode Dark Matter when she was in it, so it's no big surprise that they they worked so well together.
Liburd might be from England originally, but according to her interview with Just Jared, she's only had one role in which she actually used her original British accent, and judging by the way she so expertly transformed into the Chicago-based Zoe on This Is Us, it's clear that she has plenty of experience using an American accent. When it comes to This Is Us, Liburd isn't exactly a brand new talent, but she's also not a household name yet, though I have a feeling that's about to change.
She does, however, have more than enough experience to take the role far and she seems totally into keeping Zoe's presence on the show, as she's used the hashtag #DreamJob more than once on Instagram when referring to her new role in the series. When she's not acting, Liburd seems to be close to her family and even referred to her brother as her "bestie" in an Instagram post around Christmas time.
Although Liburd seems to have all sorts of chemistry with Justin Hartley's Kevin on This Is Us, it looks like she might be drawing inspiration for that romance from her real life one. Although it's hard to say for certain, it looks like she may be in a relationship with a guy named Benny Taylor, as they've both posted numerous photos of and with each other on their respective Instagram accounts. If nothing else, he's just a super supportive friend, but there definitely seems to be something romantic going on there.
During the This Is Us Season 2 finale, Liburd drew a lot of attention as Beth's cousin Zoe, and now it seems, fans will get to see even more of the actress moving forward. "When we come back, we're going to be embarking on a new chapter with [Zoe and Kevin] sort of discovering their romance, and their relationship, and figuring out what they are. We can expect to see her for a while," This Is Us co-showrunner Elizabeth Berger told The Hollywood Reporter. "We're looking forward to including Beth and Zoe's extended family, and throwing them into scenes with Kevin and Randall. It just felt like the possibilities there were really fun and endless."
As the flash-forward at the end of the finale showed viewers, Zoe will become a major part of the Pearson story and I personally can't wait to see how her part in Season 3 unfolds.
Check out Romper's new video series, Romper's Doula Diaries:
Watch full episodes of Romper's Doula Diaries on Facebook Watch.