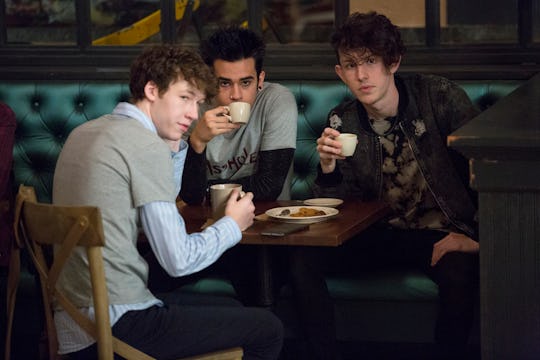 Beth Dubber/Netflix
Will Tyler Find A New Friend In Cyrus On '13 Reasons Why' Season 2?
13 Reasons Why was easily one of Netflix's breakout hits of 2017, and now that Season 2 is making its long-awaited debut, fans are bound to wonder about any new faces joining the ranks of Liberty High. Since the cast is full of talented young actors, you have to expect that the new cast members are going to hit it out of the park as well, like Bryce Cass, who plays Cyrus on 13 Reasons Why. He's another newcomer to the series and I mean that in a literal sense. He's just 20 years old and this will be his biggest TV role to date.
In the past, he appeared in the movie Battle Los Angeles and was set to be part of the cast of NBC's Cruel Intentions reboot as a TV series, but the pilot never aired and the deal was never cemented to bring the adaptation to the small screen. To be fair, Cass also appeared in a episode of the medical drama The Night Shift, but overall, 13 Reasons Why is his first major TV role and since it's a hit show already, it's kind of a big deal.
Considering he's so new to the acting world and doesn't have as much experience under his belt, Cass comes across as a pretty normal guy and it's refreshing. Unfortunately, since he isn't as deep into Hollywood as other actors, his Instagram isn't crammed full of content for his fans to pour over. Actually, there's just one post on his verified Instagram account, announcing his upcoming role in the new season of 13 Reasons Why, but his Twitter account at least shows off his personality a little more.
Cass regularly retweets scenes and quotes from what I imagine to be his favorite TV shows, which include It's Always Sunny in Philadelphia and The Office, so he definitely has a sense of humor, even if most of his work so far has been in drama, including his new role. Although he's one of a few others to be joining the cast this season, Cass' character of Cyrus might be important to the overall story arc for the show's second season. In a trailer for 13 Reasons Why Season 2, he can be seen walking alongside Tyler, who viewers may remember as an outcast last season. And the Netflix description for Cyrus has him listed as an "edgy, cynical mischief maker." If Tyler is about to stir up trouble, as foreshadowed in the Season 1 finale, then Cyrus might be by his side to help him do it. In that respect, this role is definitely important for Cass, especially since it's his longest and most permanent role to date.
He certainly seems to lay low for the most part, but Cass does already have ties to another new cast member of the Netflix series. Anne Winters, who will play head cheerleader Chloe this season, was part of the Cruel Intentions reboot with Cass, so going into 13 Reasons Why, they may have taken comfort in finding a familiar face in each other. And besides Winters, Cass isn't alone as a newcomer this season as there are seven total new cast members joining the tight-knit 13 Reasons Why family for Season 2.
Cass may not have as much experience as some of his new co-stars, but like him, some of the actors on the show went into it at the beginning of Season 1 with little to no experience themselves. And the experience he does have enabled him to earn this new role and could very well open the door for more opportunities for the young actor down the line.
13 Reasons Why Season 2 is now available for streaming on Netflix.
If you or someone you know are experiencing suicidal thoughts, call 911, or call the National Suicide Prevention Hotline at 1-800-273-8255.