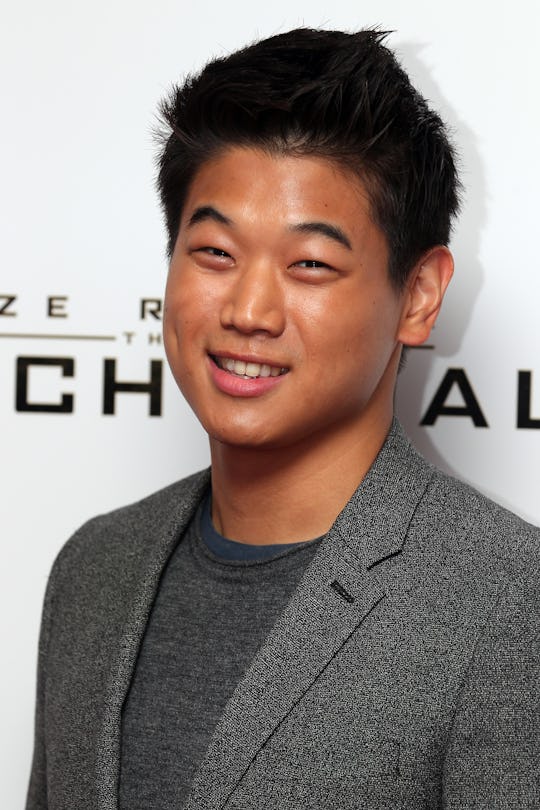 Alex B. Huckle/Getty Images Entertainment/Getty Images
Who Plays Dong On 'Unbreakable Kimmy Schmidt'? Ki Hong Lee Is Kimmy's Love Interest
In what was arguably one of the most disappointing scenes of Season 1 of Unbreakable Kimmy Schmidt last year, viewers watched a too-late Kimmy call Dong to make things right with him, only to hear him at his green card wedding with their decades-older fellow GED classmate. Maybe disappointing isn't the right word, since Dong from Unbreakable Kimmy Schmidt was a fast fan-favorite last season. Let's just say that when Kimmy felt the blow, it was one that echoed throughout the streaming universe of Netflix.
But what might surprise you about Ki Hong Lee, who portrays my number one love choice for our favorite Mole Woman, is that he definitely had a past before the world of Unbreakable Kimmy Schmidt, and it's kind of impressive. As in, big screen status impressive. But it certainly helps to know the man behind the legend. Okay, I know "legend" may be a bit much. But we've got to play it up for now, since it looks like Season 2 might see him in yet another love triangle with Kimmy and her mystery admirer from the Season 2 trailer.
Here's what you should know about Lee before Unbreakable Kimmy Schmidt Season 2 premieres.
His Feigned American Accent Was Actually Legit
While Lee was born in Korea, he actually moved to the U.S. when his family immigrated here when he was five. So, his accent on Unbreakable Kimmy Schmidt is totally authentic, in that he no doubt draws on those of his parents and other relatives for inspiration, but when he faked an American accent for the cops last season, that was very much Lee.
He's A Part Of The Dystopian Movie Craze
Ki Hong Lee is probably best known for, aside from playing Dong on Kimmy Schmidt, playing Minho in both The Maze Runner and its sequel, Maze Runner: The Scorch Trials. His role in The Maze Runner is actually what garnered him attention to appear on the People Ones To Watch list of 2014, so kudos, Dong.
He's Just As Adorable As Dong
It has to be said, and I'm not sorry for being a Dong fan girl. Dong and Lee have one major thing in common — they're both very adorable.
He Isn't Above Plugging Himself
But that's what social media as a celebrity is for, right? I also kind of love the idea of Dong (yeah, yeah, fictional character, got it) sitting at home watching himself on Netflix while we all do, too. His self-promotion also isn't as in your face as it could be, i.e. spamming his Instagram and Twitter feeds with a lot of advertisements and content regarding the show and films he works with. It is done in the perfectly well-balanced way.
He Is Officially Off The Market
Lee got married last year to his longtime girlfriend Hayoung Choi. She, too, is a Korean-American actor, known for short comedy films with Wong Fu Productions, the film company started by Lee's college friends, Philip Wang, Wesley Chan, and Ted F.
He Was Listed On People's "Sexiest Man Alive" List In 2014
Don't let his sweet persona of Dong fool you into thinking that there isn't something totally sexy to Lee. Shortly before making the People list, he made it onto People's Ones to Watch list of actors, which was more than warranted.
It's good to have you back, Lee.