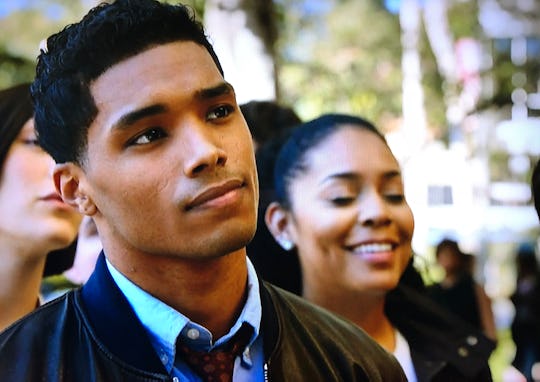 ABC
Everything 'HTGAWM' Fans Need To Know About The Actor Playing The Mysterious Gabriel Maddox
One of the hallmarks of ABC's How To Get Away With Murder is that you never know what to expect. On Thursday's season finale, it seemed like all might be well with the HTGAWM universe for a minute, until a new student showed up at Middleton College that Frank seemed to know. So who plays Gabriel Maddox on How To Get Away With Murder and how long will he be sticking around? It's likely that the entire next season will revolve around us figuring that out. Slowly, and with lots of flashbacks most likely.
Maddox showed up as the episode seemed to end happily. Annalise was putting Laurel's baby to sleep, Mr. Castillo was in jail, Bonnie was flirting at the district attorney's office, and Frank was going to register for classes. Until he overhears the name Gabriel and calls someone — we don't know who — and tells them that "Her kid is here." We don't know who that "her" is either, but judging by the paperwork Nate was going over in the final montage, it might be Bonnie's. (Because he's too old to be Annalise's son and we saw her hold her stillborn baby, right?) Or maybe he belongs to some other character we've yet to meet. Mysterious, right?
One thing we do know is that this Gabriel character has game. He was barely at the orientation tour for two minutes before hitting on a campus volunteer and let's be real, here: He is very attractive. So who is the intriguing man behind this mystery character? The actor's name is Rome Flynn and he already has some dedicated fans.
Flynn's longest running role has been on The Bold and the Beautiful, according to his IMDB page. But he's also appeared in Drumline: A New Beat, MacGyver, and NCIS: New Orleans. Additionally, he's in two upcoming movies, Tyler Perry's A Madea Family Funeral and The Thinning: New World Order.
Flynn left the soap opera late last year, likely to make time for this new role and those movies. He said in a statement when he left the show:
I want to thank Brad Bell ['B&B' head writer and executive producer] for taking a chance on this ambitious young kid and giving me more responsibility than I knew I could take on. I want to thank all of the 'B&B' fans across the world for embracing me as your Zende Forrester. It has been one of the most fulfilling experiences of my life to share a piece of my self everyday with you.
Although The Bold and the Beautiful fanbase is a dedicated one, so are the people of Shondaland. When Flynn showed up at the very last minute on Thursday, fans lost it on Twitter wondering who he was. Flynn responded on Twitter addressing his new role and thanking viewers for the warm welcome:
The 26-year-old actor is definitely going to blow up on ABC, which is a very good thing for his family. The Los Angeles native has a baby girl named Kimiko who was born in 2014. According to WikiNetWorth, he had the baby with his current girlfriend Camia Marie, who often appears on red carpets and appearances with him.
Pete Nowalk, the showrunner, told TV Guide that he has big plans for Flynn. "My instinct right now is [his character] is going to be a little bit of a mystery. Won't be too long, but I think, you know, Frank (Charlie Weber) seems to know who he is. But I don't know who else does on the show." He added, "And I think it's going to be really fun to slowly — I want people to get to know Gabriel before we know his origins.."
So settle in with our new cast member — things are going to get interesting.
Check out Romper's new video series, Romper's Doula Diaries:
Watch full episodes of Romper's Doula Diaries on Facebook Watch.