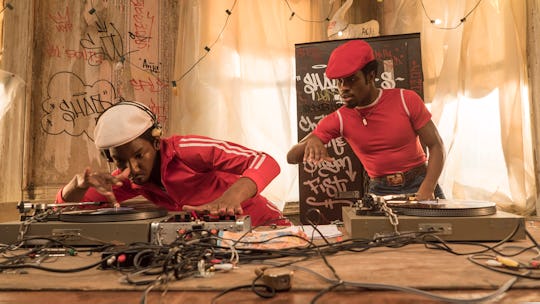 David Lee/Netflix
Who Plays Grandmaster Flash On 'The Get Down'? Mamoudou Athie Has Theater Experience
When you think of the types of people who break into acting, you never really consider the ivy league to be the sort to go after a career in show business. But with Mamoudou Athie, who plays a young Grandmaster Flash on The Get Down, that is absolutely the case. It's never easy to capture the younger version of a musical legend though, so if you have to ask who plays Grandmaster Flash on The Get Down, I forgive you. In some cases, the actors end up nailing their roles in almost scary ways, portraying the big names of music to the best of their abilities and ending up becoming younger doppelgängers of them. In Mamoudou Athie's case, as he plays Grandmaster Flash in Netflix's The Get Down, that's kind of what you should expect.
As someone who studied theater at Yale (which is extremely well-respected) and went on to devote his life to theater and Broadway in general, this man should be nothing short of insanely accurate ad he channels Grandmaster Flash through both the singing and DJ work he's known for. The Get Down focuses on the New York City music scene in the '70s when Grandmaster Flash was a huge part of that scene. So, it makes perfect sense to have someone play him in such an integral role in the new series.
Mamoudou Athie has not only acted on Broadway, but had also been in a few lesser known movies before landing his role on The Get Down. What this will do for his career is anyone's guess, but it can only be good, if he can portray Flash the right way. But before we get to see him in full 70's garb, let's take a sec to get to know the actor behind the rapper DJ.
He Graduated From Yale In 2014
Just three years ago, Mamoudou Athie graduated from the Yale School of Drama, after spending years working on different theater productions and gaining the experience to land a role like this on The Get Down.
He Was In A Production With Diane Lane & Tony Shalhoub
In the Broadway production of The Mystery of Love & Sex last March, Athie worked with these big names for several months in a play that The New York Times would end up loving and calling one of the best of the season so far. It may have not been a Netflix Original just yet, or a movie on the big (or small) screen, but it was a huge and legit production that Athie was able to co-star in and showcase his talents with.
He's Worked With The Shakespeare Theatre Company
While attending Yale and working on productions with different festivals and in the school itself, Athie also worked with the Shakespeare Theatre Company on The Mercant of Venice. For those of you who don't know, in the stage acting world, the Shakespeare Theatre Company is kind of a big deal, wherein each season includes just three Shakespeare plays, so once again, props to our young Grandmaster Flash.
He Gets To Be Close Friends With Grandmaster Flash Now — Right?
According to Mr. Flash himself, "It was freaky for me when I went to a screening [and saw Athie playing Grandmaster Flash]. And I'm looking at this guy who looks like me, DJing me. Sh*t kind of f*cked me up! I was teary-eyed over that." Hopefully those are happy tears.