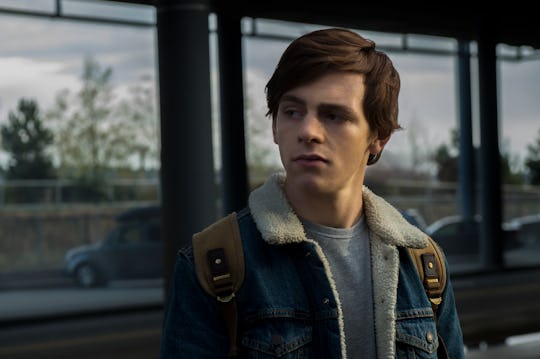 Diyah Pera/Netflix
Harvey On 'Chilling Adventures Of Sabrina' Is Important To The Story
I'd be lying if I said I don't still love the original Harvey Kinkle from the '90s comedy Sabrina the Teenage Witch. There was something so innocent about the character and the show in general, but on Chilling Adventures of Sabrina, things are about to get a lot more serious. Including the actor who plays Harvey on Chilling Adventures of Sabrina, Ross Lynch.
He's no stranger to sinister roles, but he's also been a part of some lighter projects, proving himself a capable actor in any setting. Some viewers might remember him from the Disney Channel's Austin & Ally or from the movie Teen Beach 2, which are both kind of polar opposites of the new Sabrina series on Netflix. But more recently, Lynch played Jeffrey Dahmer in My Friend Dahmer, proving he's no stranger to the dark side.
Lynch is just 22 years old, but he's been working in TV and making music since 2012, so he's far from a newbie when it comes to show business. And while he might be more well known for his TV roles, he's formerly part of the pop-rock band R5 and recently started the band The Driver Era with his brother Rocky Lynch. Like most Disney Channel stars, he's multi-talented, and hopefully that means fans will see some of that musical talent on The Chilling Adventures of Sabrina. Either way, though, he seems like the perfect new Harvey for a much darker version of the comic book teen witch.
Lynch revealed to Entertainment Tonight that he did have some concerns about taking on the role, especially as his new band, The Driver Era is just starting to take off with their first single "Preacher Man." But ultimately he couldn't turn away the opportunity. "There were certain reservations that I had to saying yes to this project obviously, because there was a lot of music going and 'Preacher Man' is very exciting and a lot of people are reacting to it," he admitted. "But I really believe in this project. I just had a good feeling about it."
Even at the risk of becoming known as Harvey everywhere he goes from now on, Lynch is determined to continue evolving his career. "The thing about being an artist [is] you never should settle really," he told Elle. "I don't think there'll ever be a time where we're like, 'Okay, The Driver Era is…' People ask me, 'What do you represent?' But it's forever growing and it's forever changing."
Despite having a rising career in music and on TV, Lynch has remained humble throughout it all. In a recent Instagram post featuring a photo of himself with his parents, he wrote, "They've really made this all possible for me. I don't know how i got so lucky. I get to call my two favorite people Mom and Dad. I love you." Can I just adopt him already? It also says a lot that his former band, R5, was made up mostly of his family members and The Driver Era is a duo band with his brother. Clearly, family is important to the Chilling Adventures of Sabrina star.
All I know is that if Lynch is anything like the original Harvey that so many '90s kids fell in love with, he's going to steal the show.