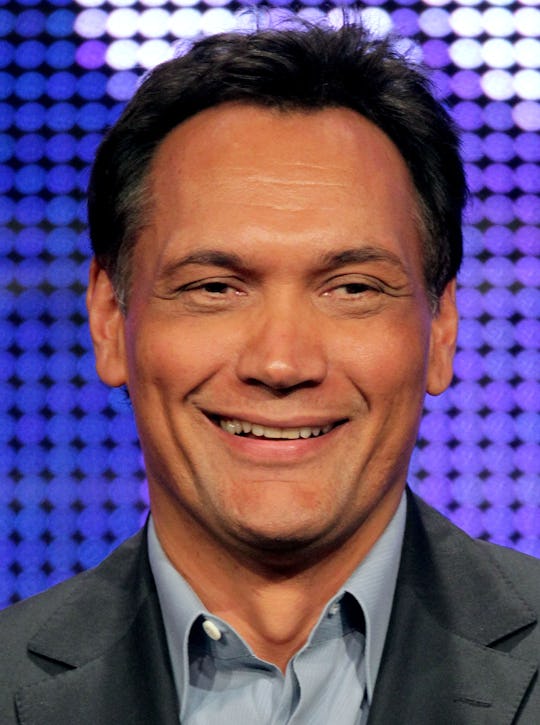 Frederick M. Brown/Getty Images Entertainment/Getty Images
Annalise's Therapist From 'HTGAWM' Is A Well Known TV Icon
While some fans have been trying to crack the mystery of who took Laurel's baby on How to Get Away with Murder, others have been focusing their attention on the new characters that were introduced at the start of Season 4, like Michaela's law firm co-workers and Annalise's therapist, Isaac. But since he could be a part of the big Season 4 mystery, fans might also be asking, who plays Isaac on How to Get Away with Murder? Jimmy Smits has played a wide variety of characters, some of whom have upheld the law in the strictest sense and others who have been more on the criminal side, so it's really no wonder that he's taken on the mysterious Isaac this season and captured the attention of everyone.
Although Smits has a long list of film and TV credits to his name, you might recognize him best as Detective Bobby Simone from the long running NYPD Blue. Even more recently, Smits had a role as a senator on 34: Legacy, and played the part of a gangster, Francisco 'Papa Fuerte' Cruz, on Netflix's The Get Down, which proves that Smits can take on pretty much any role and bring his unique charm to it to make it believable.
The actor also had a multi-episode arc on Dexter as an assistant district attorney/vigilante killer. Now, he's seemingly a well-meaning therapist on HTGAWM, but if Smits' track record tells us anything, it's that he knows how to expertly play different facets of different characters.
Although the 62-year-old actor doesn't seem to be very active on social media, Lin-Manuel Miranda did tweet about Smits wearing a shirt in support of Miranda's song "The World was Wide Enough", so we know he has good taste.
As a whole, acting seems to be one of the most important things in Smits' life. In February 2017, he spoke to Vulture about his career opportunities and his roles of the past and present and made it clear that acting is where his passion had always been. "I like working. I wasn't good at school, but when I really figured out that this is what I wanted to do, I could spend so much time in the library with joy trying to research," he said. "I became a good student because I could immerse myself in different worlds. And the fact that as a kid we moved around a lot, that forced me to be in different neighborhoods that were socially, economically, and ethnically different."
Smits is also a co-founder of the National Hispanic Foundation for the Arts, the goal of which is, according to their website, "To advance the presence of Latinos in the media, telecommunications and entertainment industries." Since the foundation began in 1997, it has managed to provide outreach, scholarships, and programs to Hispanic students seeking degrees in the arts and their contributions have exceeded $5 million.
His first on-screen role was in the 1986 movie Running Scared and since the beginning of his career, Smits has managed to earn a Golden Globe and Emmy Award and nominations for both in multiple rolls over the years. Now, Smits is getting attention as Annalise's therapist on HTGAWM, but his motives for a lot of what he does leaves much to be desired. While Smits has played plenty of other mysterious characters in the past, it's still been difficult to figure out just what Isaac's motives are and who he might be working for.
But as with Smits' past roles throughout his long career, he's made Isaac someone to like, even if it's not quite clear yet if he's going to be a good or bad guy this season.
Watch Romper's new video series, Romper's Doula Diaries:
Check out the entire Romper's Doula Diaries series and other videos on Facebook and the Bustle app across Apple TV, Roku, and Amazon Fire TV.