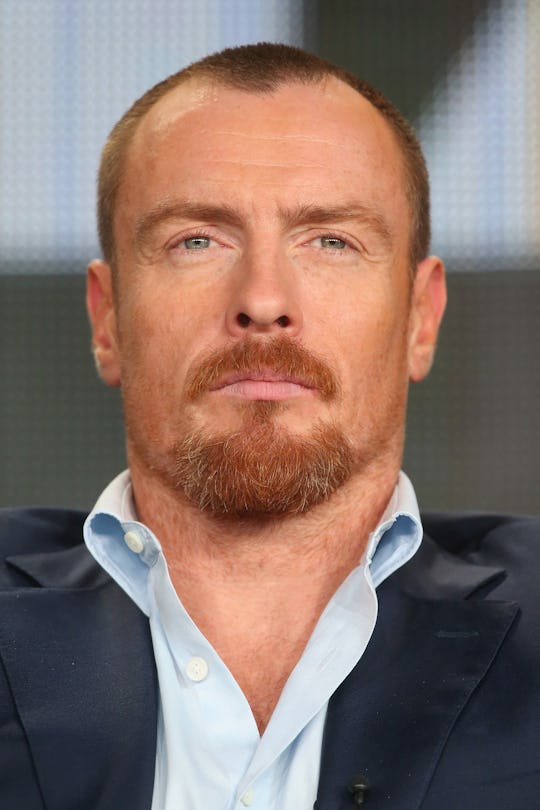 Frederick M. Brown/Getty Images Entertainment/Getty Images
The Robinson Patriarch In Netflix's 'Lost In Space' Comes From Hollywood Royalty
In order to truly appreciate Netflix's newest series, Lost in Space, you don't necessarily have to know anything about the original show from the '60s. However, it doesn't hurt to be familiar with the new set of actors who will fill the roles of the Robinson family space colonists. Some of the actors are newer to the business, while others are seasoned professionals. So who plays John Robinson on Lost in Space? Toby Stephens was born in England and began his acting career in theater, but he already comes from a family of talented actors. His father, Sir Robert Stephens, who died in 1995 was a big part of Britain's Royal National Theatre, but his mother, Dame Maggie Smith, may be even more well known for her many movie roles over the years.
You probably know her best as Professor McGonagall from the Harry Potter movies or Violet Crawley on Downton Abbey and it would seem that Stephens has followed in the footsteps of his famous and talented parents. He's about to play the important role of the Robinson family patriarch on Netflix's Lost in Space series, but in the past, he's been in some big budget movies like 13 Hours and Die Another Day. He was also in the Starz series Black Sails, but like his parents before him, Stephens has a soft spot for theater as well.
In 1999, he was in Ring Around the Moon on Broadway, but more recently, in 2013 and 2017, he was part of the cast of Private Lives and Oslo, respectively. Aside from acting, Stephens is married to New Zealand actress Anna-Louise Plowman and together, they have three children. And as far as encouraging his children to enter the world of acting, like he's done and his parents before him, Stephens told Backstage that before anything else, he'd make sure they understand the difficulties of the business, even with successful relatives in the business.
"If any of my children wanted to get into it I would impress on them how ephemeral and how difficult it is," he said in an interview with the outlet. "It's a very fickle world, our business. And one has to be ready for that and really know that." Although Stephens doesn't seem to be all that into Instagram, judging by the frequency of his work I'd say that acting has always been very important to him. That being said, he told the Associated Press in 2015 that as an actor, he's had people link his success to the fact that he has successful parents. However, he still greatly admires his mother for her work. "I'm immensely proud of her, I adore her, and I adore her work. I'm staggered by her," he said.
Netflix's Lost in Space is about a family who, in the future, decides to take the leap and move to another planet for a better life. When their ship goes off course, though, they land on an unknown planet and have to use their skills to survive, while also trying to figure out how to operate their spaceship once again to find their way home.
Stephens will be stepping into the role of the father, and although the robot in the previews seems to be the best character so far, it's not a total stretch for Stephens to play a father since he is one in real life. (Though I highly doubt he's had any experience with space travel.) But considering he already has plenty of experience in theater, TV, and movies, he's probably the perfect TV dad for the Netflix reboot.
Check out Romper's new video series, Romper's Doula Diaries:
Watch full episodes of Romper's Doula Diaries on Facebook Watch.