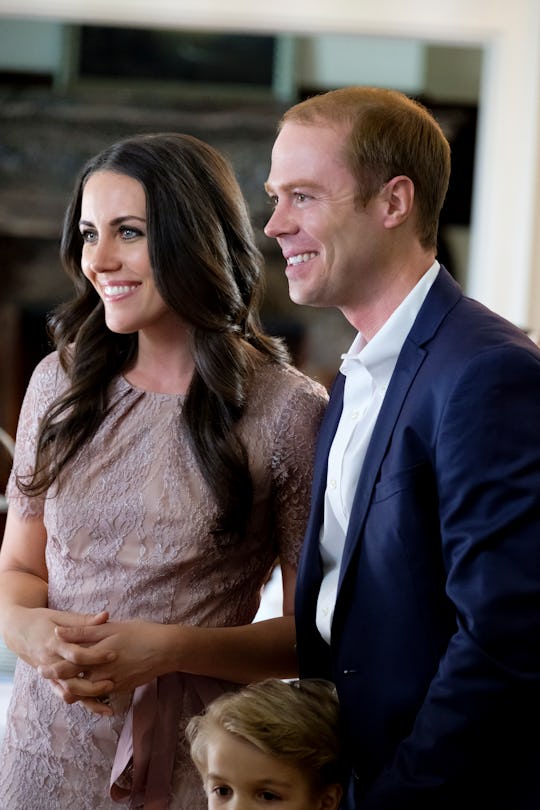 Lifetime
This Is Who's Playing The Duchess Of Cambridge In Lifetime's 'A Royal Romance'
On any given weekend, you can find a royally-themed TV movie on either Hallmark of Lifetime. During the holiday season, it's even more common. So it should come as no surprise that a week before Prince Harry and Meghan Markle's real-life wedding, Lifetime is set to air a special movie about their love story on May 13 with what is essentially a cast of doppelgängers. But who plays Kate Middleton on Harry & Meghan: A Royal Romance? Laura Mitchell is no stranger to other similar TV movies, but this will be her first time playing a real-life royal, as opposed to the fictional ones that so many Hallmark and Lifetime romantic comedies are centered around.
Before landing the role as the Duchess of Cambridge, Mitchell was in Hallmark's Finding Santa and Christmas List, which was another Hallmark Christmas romantic comedy. So to star alongside some other royal lookalikes (at least at first glance, anyway), was a natural next role for the actress. "Having the opportunity to play Kate was absolutely a dream come true," she told Vancouver Presents. "It was an amazing experience and everyone on the cast and crew worked so hard to bring this show to life and make sure to do the story justice. I just hope people have as much fun watching it as we did making it."
Mitchell is from Canada in real life, so like some of her co-stars, she's not British, but that doesn't mean that she doesn't have the talent to pull it off in a way that makes it totally believable. And for her, acting and performing have always been a big part of her life.
Mitchell got her start in show business almost 20 years ago and has appeared in a ton of different TV shows and movies. She told Indie Activity, she knew that she wanted to be an actress when she saw Little Women for the first time as a child. Even though she was just 10 years old at the time, it was like a light bulb went off in her head and she knew that appearing on-screen was something she wanted in life.
At the beginning of her career, she studied acting in Montreal, but even now, she continues to do all that she can to learn the best techniques and takes her roles as seriously as possible, regardless of how big or small they may be. When she's given a part in a movie or TV show, she'll also read and reread the script until she really gets to know her character. Of course, playing Middleton on Harry & Meghan: A Royal Romance means that she already has plenty of information out in the real world about the "character" she's playing, but she still put a lot of effort into channeling this particular royal.
According to her Instagram, Mitchell loves to travel. There are photos from trips all around the world, and some with a guy she refers to in one photo as her moon and stars, using the appropriate emojis instead of words, though it's not clear if they're still together. She also seems like she'd be a lot of fun to hang out with in real life, as she knows the value in not only Instagramming your food, but also letting loose on the weekend with no regrets.
Harry & Meghan: A Royal Romance isn't Mitchell's first movie by any means, but it's definitely going to help propel the talented star's already rising career even further. And judging by all of the work she's put into it so far, she's definitely earned it.