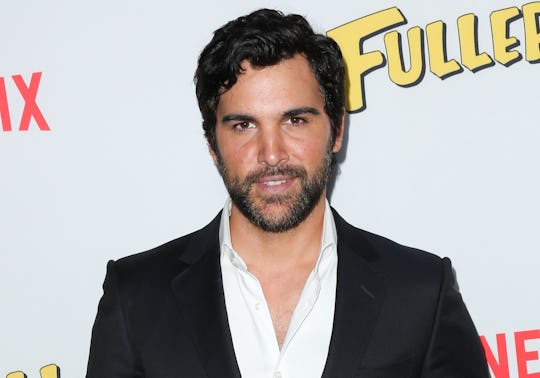 Paul Archuleta/FilmMagic/Getty Images
Who Plays Kimmy's Husband Fernando On 'Fuller House'? Juan Pablo Di Pace Is Sure To Be Your Next Big Crush
There is only one week until Fuller House premieres on Netflix on Feb. 26, and fans are getting excited. How could they not? Their favorite family is back once again, this time on a computer screen, rather than a TV. Aside from the usual things people will be talking about, like how Uncle Jesse can still look so young almost 20 years later and the whereabouts of Michelle, there will be other, newer things to talk about as well. One of the things that viewers will definitely be talking about? Who plays Kimmy's husband Fernando on Fuller House? The actor, Juan Pablo Di Pace, is sure to be your next TV crush.
Di Pace is a 36-year-old international actor with a passport to prove it. According to his Twitter profile, Di Pace has lived in London, Buenos Aires, Triste, Madrid, and Los Angeles. Talk about well-traveled. According to Di Pace's IMDb.com profile, the actor was born in Buenos Aires, Argentina to painter Marta Maineri. Before becoming an actor, he studied theatre in England at the London Studio Centre.
You might recognize Di Pace from his role in the movie version of musical Mama Mia! as Petros in 2008. Or, alternatively, his roles in TV series like NBC's Camp as Miguel Santos, TNT's Dallas as Nicolas Trevino, or in the mini-series A.D. The Bible Continues as Jesus himself.
On Fuller House, Di Pace plays Kimmy Gibbler's ex-husband, Fernando (no last name, just Fernando). You might remember Kimmy, or Gibbler, as the annoying nuisance of a next door neighbor and friend of Tanner daughter DJ. While the Tanners generally found Kimmy a bit obnoxious, it looks like Gibbler got the last laugh with her hottie of an ex-husband.
From the time that Full House went off the air to the time that Fuller House starts up again, Kimmy and Fernando got married, had a child named Ramona, and got divorced. According to Tvline.com, the character of Fernando is described to be inappropriately passionate and relentless about winning Kimmy back.
Unfortunately, it looks like Fernando is going to have to get through the Tanners to win back Kimmy Gibbler's heart, as Gibbler has decidedly moved in with the them (truly making a Full House even fuller). Gibbler will be moving into the home with their child, Ramona, who is described by Showbiz 411 as "bi-racial, passionate, sharp tongued, tough, kooky and a drama queen." Like father, like daughter?
According to IMDb.com, Di Pace will be starring as Fernando for 7 out of 13 episodes in the series, meaning you will get plenty of time to unapologetically stare at Di Pace's face for as long as you please. Swoon.