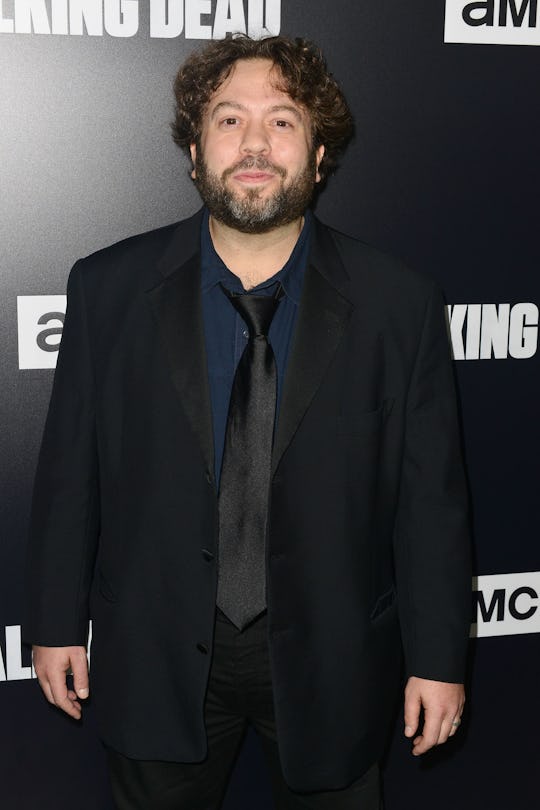 Jerod Harris/Getty Images Entertainment/Getty Images
Dan Fogler Joins 'The Walking Dead' Cast & He's Eager For The Change Of Pace
Of all the little nuggets of information given in the final moments of Rick Grimes' last episode of The Walking Dead, the introduction of a new group of survivors might be near the top of the list. Mainly because it was adorable to see Judith continue in the family tradition of saving groups of people from hordes of walkers. But also because it means new storylines and new characters to get to know, like Luke, who fans probably recognize from a plethora of other projects outside of the show. The actor who plays Luke on The Walking Dead, Dan Fogler, has dipped his toes in a number of different genres in both TV and movies, so it's no wonder if you feel like you know him from somewhere.
On TV, Fogler has been in shows like The Goldbergs and Hannibal, and he's become known as Jacob Kowalski in the Fantastic Beasts and Where to Find Them movies. He was also memorable in the comedy Fanboys and more often than not, he offers comedic value to his roles when he's in more serious movies or TV shows. According to Us Weekly, he may not be on The Walking Dead for comedic relief as Luke, but his character is "focused on the real kindness inside people" and "has the heart that a group of survivors needs." I'm getting a Eugene 2.0 vibe, but maybe with a little more courage.
Fogler is more well known for light-hearted roles but, he told reporters at the 2018 New York Comic Con, he was looking for different roles to take on during his downtime from filming movies. "I wanted something darker and I think [my representation was] tapping on The Walking Dead's shoulder for awhile. Out of the blue they called and asked if I wanted to play this Luke character and I said absolutely," he revealed. "I hope it continues, my schedule is hard to work out, but I hope it goes on for a long long time. It's a blast, I'm riding horses and stuff — it's cool."
He said that filming The Walking Dead is a lot different and more grueling than other TV shows or movies in his past, but in a good way. And he's no stranger to long hours onset. In addition to working on the big and small screen, Fogler is also known for his work on and off Broadway. Most recently in 2015, he was in the musical A New Brain. And back in 2006, he won a Tony Award for Best Featured Actor in a Musical for his role in The 25th Annual Putnam County Spelling Bee. Fogler has definitely run the gamut in roles on-stage and in front of the camera, so I'd say he's a worthy addition to an already much-loved cast.
Other than acting, Fogler also has a podcast, Dan Fogler's 4d Xperience in which he gets high and discusses movies with actor guests. Why not! I don't know how he has the time to appear in multiple Harry Potter universe movies, take on a role as one of The Walking Dead newbies, and host his own podcast, but somehow he does it all.
I'm not sure how many episodes Luke is planned for this season on The Walking Dead, but it seems like Fogler is available for as long as they'll have him. I'll be disappointed if he doesn't get the chance to throw in at least a few funny quips here and there, but his character sounds like the open-minded and hopeful optimist the show needs right now. Whether that gets Luke killed is yet to be determined.