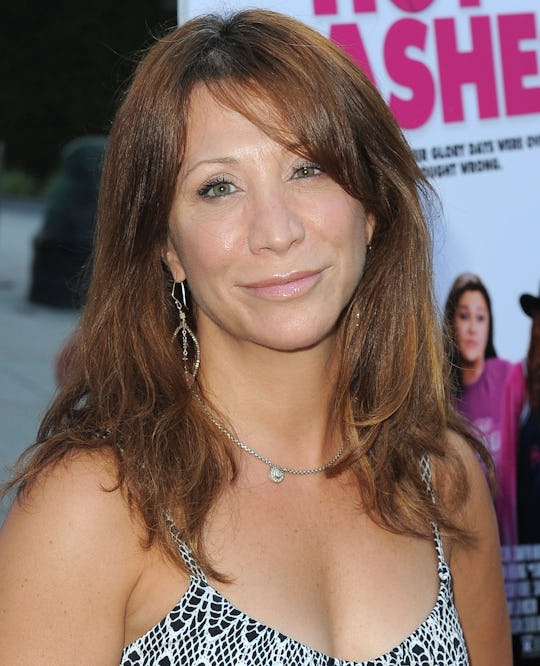 Angela Weiss/Getty Images Entertainment/Getty Images
Who Plays Lynn On 'Scream Queens'? Cheri Oteri Is Known For Her 'SNL' Characters
When the third episode of Season 2 of Scream Queens premieres Tuesday night, the newest patient is going to be another Saturday Night Live alum (Cecily Strong played werewolf girl in the season premiere), but since the Green Meanie has been targeting patients, she might just be serving as another way to bring out the killer again. Lynn is another patient sent to the C.U.R.E. Institute for help with a seemingly incurable disease, but who plays Lynn on Scream Queens? Cheri Oteri has been in film and TV a lot in the past 20 years, but she's probably most well known for her different roles on SNL, as that was what helped her rise as an actress and set the bar pretty high for the female SNL players who would come later on.
The synopsis for the Scream Queens episode "Handidates" Tuesday night says that Oteri's character, Lynn, will somehow bring Chanel #3 and Dr. Cascade closer, which also means that while they're busy canoodling, there's a very good chance that the Green Meanie will use that opportunity to slice and dice the newest patient, continuing on with the M.O. of killing the patients of the hospital. And when Jamie Lee Curtis posted this photo on Instagram a few months back, it was clear that Oteri wasn't going to be a season-long player, but it's still good to have her on Scream Queens for at least one episode. Curtis captioned the picture with, "Please come again. We can't stop loving you!"
Obviously Oteri is going to bring all kinds of funny to her role as Lynn on Scream Queens, and it makes you think of her other notable characters, mostly from SNL. Yes, Oteri has been in some big screen raunchy comedies like Scary Movie and Dumb and Dumberer: When Harry Met Lloyd, but most people automatically recognize her from her years on SNL.
She Was One Half Of The Spartan Cheerleaders
Every Halloween, people still dress up as Oteri and Will Ferrell as the Spartan Cheerleaders from SNL, who had way too much enthusiasm and energy for real life, but just enough to be the famous cheerleading duo on the show. But the fact that their skits are still making people laugh, more than a decade later, and finding a way into the computer screens of millennials who were barely in puberty when they were on SNL really says something.
Nadine, The "Simmer Down Now" Lady
Honestly, this has got to be one of her most famous SNL characters to date, and one that had been imitated to a cringe worthy degree in its day. No one could ever quite get down the mannerisms and voice of the impatient customer service employee, but the catchphrase of "Simmer down now" was super popular. And even today, for those who were SNL fans in the late 90's, hearing the words makes you hear them only in Oteri's voice.
A Morning Latte Co-Host
In another role Oteri played alongside Ferrell, she was a sometimes dim-witted host on the SNL morning show, Morning Latte, which served as the average morning talk show, but with the added bonus of hearing about her character, Cass's, extremely small uterus and the personal lives of the co-hosts that always ranked high on the TMI scale.
Collette Reardon, A Prescription Pill Addict
Oteri's over-medicated, pill-addicted character appeared multiple times throughout Oteri's time on SNL, and resonated so well that on YouTube, you can find multiple homemade skits where fans are playing their own versions of Collette Reardon. It's kind of hard to believe that Oteri was only on SNL for five years, when she made such an impact with all of her now-famous characters during a time when so many other comedic stars were also cast members.
Oteri is scheduled to play Lynn on Scream Queens Tuesday night, probably for one episode where she'll likely be plenty over the top, loud, and funny in the sort of way that the deaths on Scream Queens have come to be.