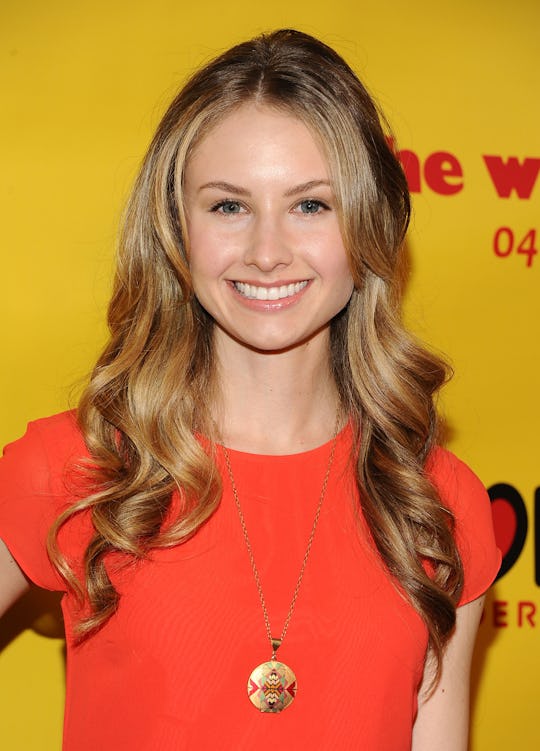 Angela Weiss/Getty Images Entertainment/Getty Images
Madison Has Strong, Real-Life Ties To 'This Is Us'
If This Is Us has proven anything to fans regarding its supporting characters over the past season and a half, it's that there are no small roles. Everyone seems to serve a purpose to benefit the main characters, including Kate's former group therapy nemesis, Madison. So who plays Madison on This Is Us? Caitlin Thompson has an important connection to the show by way of its creator Dan Fogelman.
Although she is an actress in her own right, Thompson married Fogelman in 2015 and has been supportive of his career and of the show in general since they became a married couple. In the cation of an Instagram photo she posted on the night they attended the Golden Globe Awards, Thompson wrote: "Another fun night at the #goldenglobes in the books! Congrats to the #thisisus gang and especially @sterlingkbrown!!! Thank you for making my husband almost cry on national tv."
She also seems to have a sense of humor when it comes to their relationship, even though they're absolutely adorable as a couple. She called him out on Instagram on their two year wedding anniversary with "Two years ago today, I got a whole day where Dan wasn't allowed to say "no" to taking pictures and it was glorious." Like I said, they couldn't be any cuter.
She may be a relatively new face for some This Is Us fans, but Thompson has been in the business for about 10 years, having gotten her first multi-episode arc on a TV show back in 2012 when she played yet another Madison on the reboot of 90210. She also had a role in the movie Crazy, Stupid, Love, and appeared in an episode of the new workplace comedy L.A. to Vegas, so she definitely knows how to stay busy. She's also a part of the Netflix Original comedy series Small Shots, so you can't accuse of her of not being well-rounded as an actress.
Thompson and Fogelman don't currently have any children together, but they do share two adorable dogs, who Thompson seems to see as their children for now. And to be honest, that's how pet parents should be.
With the wide range of emotions she showed in just one episode of This Is Us during the first half of Season 2, it's not really surprising that Thompson not only has plenty of acting experience prior to the series, but that she also writes and acts with the Open Fist Theatre Company in Hollywood, California. Honestly, is there nothing she doesn't do?
Although not much has been revealed about her character just yet, Madison seems to have her own struggles with weight, even if it doesn't mimic what Kate is going through. Normally, Madison has a knack for getting on Kate's nerves because of this, but the two of them were able to momentarily bond over Kate's pregnancy announcement. At the time, it seemed like they were on the track to being more friends than frenemies, so hopefully that will continue on as the season progresses.
In real life, Thompson and Chrissy Metz (Kate) appear to have hit it off, so a real friendship between the characters definitely isn't out of the question. Given her close proximity to the guy who's calling most of the shots on This Is Us and the fact that she's already a talented actress, I wouldn't count Thompson out for showing back up at some point in the near future. But either way, she probably won't be far from the set.
Check out Romper's new video series, Romper's Doula Diaries:
Watch full episodes of Romper's Doula Diaries on Facebook Watch.