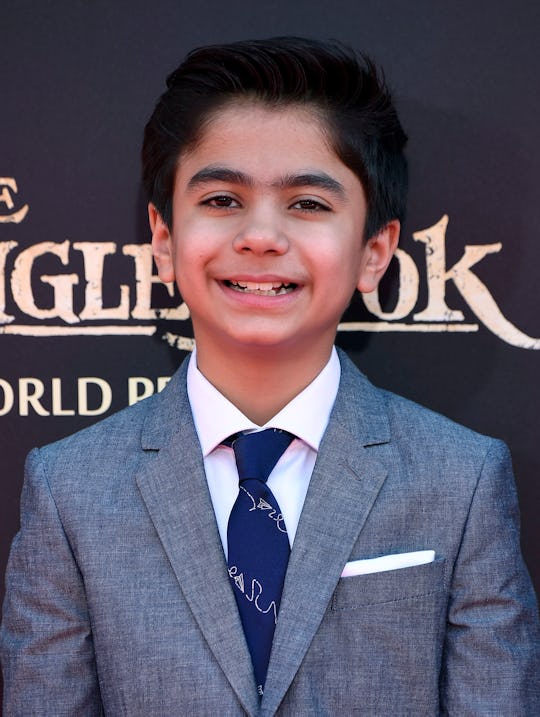 Frazer Harrison/Getty Images Entertainment/Getty Images
Who Plays Mowgli in 'The Jungle Book'? Neel Sethi Is Bound To Be A Star
Just admit it. You're probably going to see Disney's new live-action flick, The Jungle Book, whether you have kids or not. The latest version opens on Friday with a star studded cast, but it's Neel Sethi, who plays Mowgli in the new Jungle Book incarnation thats really got everyone talking.
Sethi is just 10 years old and has starred in one other short film, Diwali, so this new part will likely be his big break-out role. Jon Favreau, the film's director and one of the executive producers, said they chose the actor after auditioning "thousands" of kids, according to Deadline. "Neel has tremendous talent and charisma," Favreau said in a statement. "There is a lot riding on his little shoulders and I'm confident he can handle it."
According to casting director Sarah Finn, Sethi has had no formal training but his charisma jumped out at the crew who were tasked with finding the perfect Mowgli. She added in the same Deadline interview that Sethi is "warm and accessible, yet also has an intelligence well beyond his years and impressed [them] all with his ability to hold his own in any situation." That's quite the review for an inexperienced kid.
Finn and the film's production team aren't the only ones impressed with the man-cub, either: The combo live-action and animated movie is already getting rave reviews from critics as well.
In fact, the film is apparently so good that Disney has already confirmed that it will make a sequel. If the first in the series does well enough at the box office, Disney could theoretically make a lot more of them, too. Like the new incarnation, the original 1967 Disney version of The Jungle Book is based on the Rudyard Kipling books of the same name. There are three of them, all collections of Mowgli fables, so this could arguably be the next big franchise (but be forewarned if you're a fan of the old version, this one is apparently a much darker take on the old stories).
The Jungle Book also stars Bill Murray as Baloo; Lupita Nyong'o as Raksha, the mother wolf; Ben Kingsley as Begheera the panther; Scarlet Johansson as Kaa, the snake; and Idris Elba as Shere Khan, the deadly tiger. For his first film, 10-year-old Sethi couldn't have asked for a more star-studded, talented cast — of course, if the critic reviews are any indication, it's little Sethi who will be walking away with all the accolades.