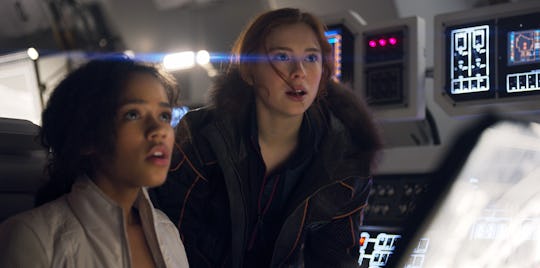 Netflix
Penny Robinson From 'Lost In Space' Is Just As Impressive Off-Screen
When Lost in Space premieres on Netflix on April 13 in its entirety, you're going to get a much updated version of the 1960s original series that while classic, obviously seems much more dated by today's standards. That being said, not only is the set impressive, but the cast that was put together already seems like a real family. This includes the actress who plays Penny Robinson on Lost in Space, Mina Sundwall.
Like her character on the Netflix Original series, Sundwall is a teenager and in real life, she's 16 years old, so in that respect, she can definitely relate to her character in the show. She's not, however, currently between home planets, but since Lost in Space is also about the dynamic of a family forced to work together to survive, there are going to be some clear similarities between Sundwall and her character on the show.
Judging by her Instagram, she's every bit as normal as any other 16-year-old girl, except now she just so happens to be part of what could be the next big series to come from the geniuses at Netflix. She also seems super close to both of her parents. At one point, under a picture of Sundwall and her mom, she referred to her mother as "The most beautiful, most caring, most badass woman I've ever met." For real, can I adopt this girl right now?
Some of Sundwall's past work in TV include Law & Order: Special Victims Unit and Celebrity Ghost Stories, but her biggest and most important TV role to date is Penny on Lost in Space. "I would have to say that Lost in Space was definitely my favorite project to work on so far," she told Fanfest.com in an interview, adding:
I was very new to all of the action side of it and the very precise and meticulous special effects side of acting. I love the fact that even though it's a show that is set in space, it is very much a family dynamic and there is drama and it is very emotional. That is something that I will always connect to and something that I will always love.
Sunwall has also had roles in independent movies, such as #Horror and Freeheld. Right now, she's studying to take her ACTs, but the actress also told Fan Fest that she enjoys taking a week or two out of each summer and volunteering with organizations to teach English and help build homes.
Even though she's just 16 years old, Sundwall seems to be all about fighting for the causes she believes in and took to Instagram to urge others to do the same during the student-led March For Our Lives event worldwide, back in March. In support of stronger gun laws, Sundwall wrote, "We speak louder in numbers, together."
But just because the Lost in Space star is about to gain even more recognition for her talents, it doesn't mean that she's going to stop her service work anytime soon. "[I'm] trying to convince my mom that spending a couple of months in Ghana next summer is a great idea," she revealed to Teenplicity.com back in November 2017.
For some, Sundwall might be a new face, but it's clear that she takes all of her passions very seriously. If her dedication to helping others is any indication of her burgeoning acting career, then I would imagine that we'll be seeing plenty more of her once Lost in Space premieres on Netflix and her career continues to grow.
Check out Romper's new video series, Romper's Doula Diaries:
Watch full episodes of Romper's Doula Diaries on Facebook Watch.