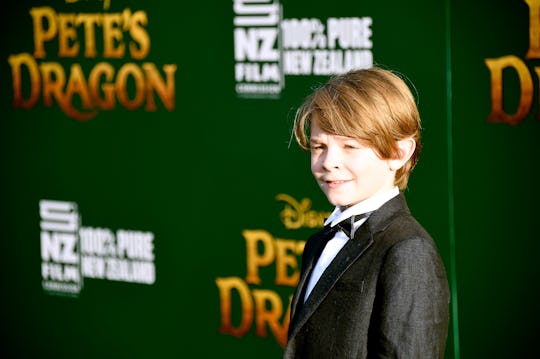 Frazer Harrison/Getty Images Entertainment/Getty Images
Who Plays Pete In 'Pete's Dragon'? Oakes Fegley Shines On Screen & Off
Pete's Dragon, Disney's latest live-action movie, hits theaters this weekend and is going to be a great kid-friendly summer film. The stars of the film are even kids themselves. So, who plays Pete in Pete's Dragon? A rising star named Oakes Fegley who is making his feature film debut — but don't be fooled, this kid is no stranger to the screen. He's also extremely bright off-screen, too.
Fegley, 12, plays 10-year-old Pete in the film, but he got his start acting even younger when he appeared in several episodes of Boardwalk Empire. He then appeared in several episodes of Person of Interest and had a role the film, This Is Where I Leave You, playing a younger version of Jason Bateman's character.
Fegley and his family are from Allentown, Pennsylvania, and the local papers there have been super excited about their hometown boy's rise to fame. Even though Fegley had already done some television work, when it came time to audition for Pete's Dragon, he knew he was up against thousands of other kids from all over the world — and he didn't expect to get cast.
"No way was I going to get it," he told Morning Call. He auditioned when he was in the fourth grade, encouraged by his parents Michael and Mercedes, both of whom are actors themselves. The family has regularly been in local productions of A Christmas Carol in Allentown, with Fegley playing Tiny Tim two years in a row.
When casting director Debra Zane saw Fegley's audition tape, she suspected he was just what they were looking for. Why? Because he was just a normal kid.
Well, a normal kid who also had some serious acting chops.
Fegley went to audition in New York City and was then called back to meet director David Lowery. This would be the real audition: would the director think as highly of Fegley as the casting agent had?
"He just had that something," Lowery told Morning Call, "I can't describe it, but there was something so real about him."
Fegley nabbed the role and was whisked off to New Zealand with the rest of the cast to begin shooting. He was pretty star struck working with Robert Redford, ("a legend" he called him, in an interview with Access Hollywood) and got on really well with Oona Laurence, 14, best known for playing Matilda on Broadway.
Filming in New Zealand was pretty exciting, and he raved about the experience when he was interviewed by ScreenRant at the premiere of Pete's Dragon. Although, when the reporter asked him if he'd seen any real wild animals on set, the bright young star casually informed her that "New Zealand, actually, didn't have any natural land predators."
Neither Fegley nor Laurence read the book before shooting, but Fegley did watch the original 1977 version of Pete's Dragon — but only after he'd finished filming the remake.
The young stars also talked about how it was sometimes strange to be acting next to an invisible dragon. Even though Pete can see Elliot in the movie, the young actors had to act alongside tennis balls stuck to sticks or pieces of tape on the wall — the dragon would be added in post-filming with CGI. That meant they had to really use their imaginations to make it seem like they were actually playing with and talking to Elliot. Fegley told ScreenRant that the pretending did eventually get easier:
The one scene where I'm getting on his back to go, that was all certain rigs and ways that I could get onto Elliott and lots of things like that. It was originally hard to imagine the dragon was there even though it wasn't. As we progressed through it, it was easier and easier.
Pete's Dragon, which critics say is a great family film, hits theaters this weekend.
And what's next for Oakes Fegley? He just finished filming Wonderstruck with Julianne Moore and Michelle Williams, which comes out next year.