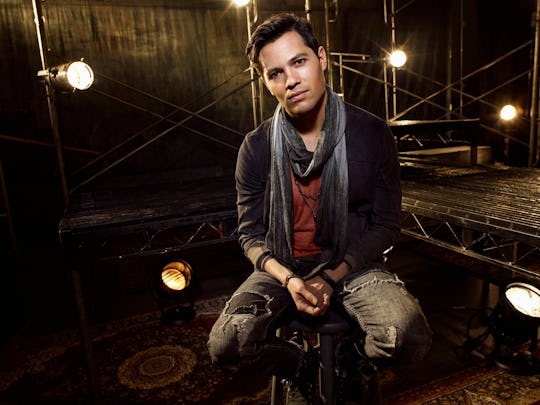 James Dimmock/NBC
Everything To Know About The Actor Playing Peter On 'Jesus Christ Superstar Live!'
When you have a production like Jesus Christ Superstar Live!, all of the actors involved, whether or not they're playing big roles like Jesus or Judas, have to have some ounce of professional talent in order to help things go off without fail. Even though Peter is one of 12 different apostles who follow Jesus in the musical, he still plays an important role, so of course the actor who plays Peter on Jesus Christ Superstar Live!, Jason Tam, should be someone with enough experience to pull it off.
Fans might recognize Tam from his long-running role on One Life to Live from 2002-2012, or from his multi-episode arc on the short-lived NBC series Do No Harm, but the actor also has plenty of theater experience as well. In fact, one of his first roles was as a replacement in a Broadway production of Les Miserables in 1987 back when he was just five years old. He went on to appear in different stage productions, including A Chorus Line (both on Broadway and in Hollywood), If/Then, and KPOP.
But Tam's talents don't stop there, as he's also a talented piano player and, according to his Instagram, a forklift operator. Apparently, playing Peter on Jesus Christ Superstar Live! isn't the only thing this guy is a pro at doing.
As far as Tam's personal life goes, away from theater and TV, it doesn't look like he's currently in a relationship or has any kids, but he does have an adorable attachment to his cat. And I know there are plenty of us who prefer Instagram feeds full of cat photos rather than kids at times. He first posted about his cat, Malcolm, back in 2015, and later described him in an Instagram caption as "String chaser. Fly eater. Furniture destroyer. Leg warmer." As someone who is bordering on cat lady status, I can confirm that those are very accurate feline attributes.
He also seems to do his fair share of traveling and has different photos on Instagram from trips to South Korea, Scotland, England, and different states all over the country. Whether those were for work, play, or a little of both, it definitely shows how busy Tam is and how much he likes to stay active.
Although Tam is originally from Hawaii, it looks like he currently spends most of his time in New York City, which makes sense, given all of his theater experience in the city. That also probably comes in handy for his role on Jesus Christ Superstar Live! since it's going to be filmed live at the Marcy Avenue Armory in Williamsburg, Brooklyn. Yet despite all of his experience as a performer, Tam told BroadwayWorld.com, "I never imagined myself being in this show, but I love playing the part of Peter" and went on to explain the feeling of playing this apostle specifically. "All these people are confronting him and he just panics. He goes into survival mode. And then realizes the horror of betraying the person you love most in the world. It's a very challenging arc that I like."
Jesus Christ Superstar Live! airs on NBC on April 1 at 8 p.m. EST and even though it's a live TV performance, it's going to broadcast from a stage, so all of the actors involved are going to be relying on their talent and experience to be able to perform the epic rock opera in the way fans remember it. Given Tam's own experience in music, theater, and even TV, there's no doubt that he'll be able to bring Peter the apostle to life on-screen and on-stage.
Check out Romper's new video series, Romper's Doula Diaries:
Watch full episodes of Romper's Doula Diaries on Facebook Watch.