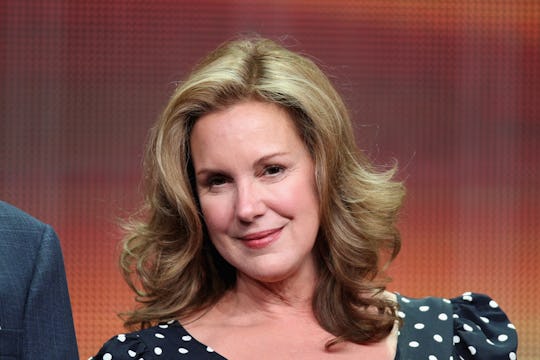 Frederick M. Brown/Getty Images Entertainment/Getty Images
Rebecca's Mom On 'This Is Us' Should Look Familiar
No matter how much backstory fans get on the Big Three of This Is Us and their parents' life together, there will always be something to look back on, or some memory to be dredged up in the middle of an episode. So it's no wonder that from time to time, Jack and Rebecca's parents might make appearances, but since she may look familiar to some, who plays Rebecca's mom on This Is Us?
Elizabeth Perkins can hit it out of the park with pretty much any role. In a previous flashback, Perkins played Rebecca's controlling mother, Janet Malone, before, but clearly she isn't the person Rebecca got her parenting inspiration from. While the grandparents haven't been a huge part of the flashbacks on This Is Us, there has been a lot of talk about Rebecca's folks, like in the Thanksgiving episode from Season 1. Rebecca obsessed over making a perfect cranberry sauce to impress her mom, while Randall confided in Jack that it's always hard to go and see the grandparents, who tend to insist on more photos with "just the twins" than not.
And in the promo for This Is Us Season 2 Episode 4, it looks like Rebecca's mom is going to live up to those stories and then some. But, to be fair, Perkins does play a good unlikeable character.
On Weeds, she played Celia Hodes for four seasons and recently, she had a small role in the Ghostbusters remake as a snarky intellectual scholar. But she's also done her fair share of mom-ing in TV and movies as well, so it was likely a mixture of the two qualities that made her perfect to choose as the actress to play Rebecca's mom. She played Dorey Walker in 1994's Miracle on 34th Street and also Wilma Flintstone in The Flintstones movie the same year. Currently, she even has a role in the breakout Netflix series GLOW. Perkins has also worked with Mandy Moore before in the 2002 dramedy All I Want, though playing her mom on This Is Us will be the first time Perkins will be working so closely with the actress.
She also does her share of charitable work. As someone who lives with Type 1 Diabetes, the Golden Globe and Primetime Emmy-nominated actress worked on a Diabetes Co-Stars campaign from 2012-2013, which included a documentary titled Strength in Numbers, about why sharing her story is important. But Perkins doesn't seem like someone who is afraid to let her feelings be heard on subjects close to her heart, as she's made a few different Instagram posts about gun safety and her support of stricter gun laws in the United States.
When she's not speaking out about important social issues or working, judging by Perkins' Instagram, she seems to spend her free time with family, traveling, or a little of both. Next up for Perkins is the role of Jackie in HBO's upcoming series Sharp Objects, which is based off the crime thriller novel of the same name by Gillian Flynn (Gone Girl).
In Perkins' role as Rebecca's mom on This Is Us, the actress is apparently going to do her part in bringing the feels that the series is known for. According to Moore and Milo Ventimiglia, the mean Grandma Janet is going to butt heads with various family members in Tuesday's episode of This Is Us.
"No one wants to talk to her, everyone's avoiding her because we're not that close," Moore told Entertainment Weekly. "It's actually kind of odd that she decides to take it upon herself to come and lend a helping hand when that's never really been our relationship before. We don't go home for holidays anymore. We're our own little unit, the five of us."
Ventimiglia added of his TV mother-in-law's visit in the episode, "She decides to visit out of the blue, during the snowstorm as well, so there's no exit. God bless Rebecca for having to deal with the things that her mother puts through, especially one particular issue that goes back to making our kids feel equal and welcome."
Though Perkins herself has played a number of different characters throughout the year and seems as far removed from Rebecca's mom as possible, her visit to the Pearson home will likely give the Big Three the chance to bond over how much she drives them all up the wall.
Watch Romper's new video series, Romper's Doula Diaries:
Check out the entire Romper's Doula Diaries series and other videos on Facebook and the Bustle app across Apple TV, Roku, and Amazon Fire TV.