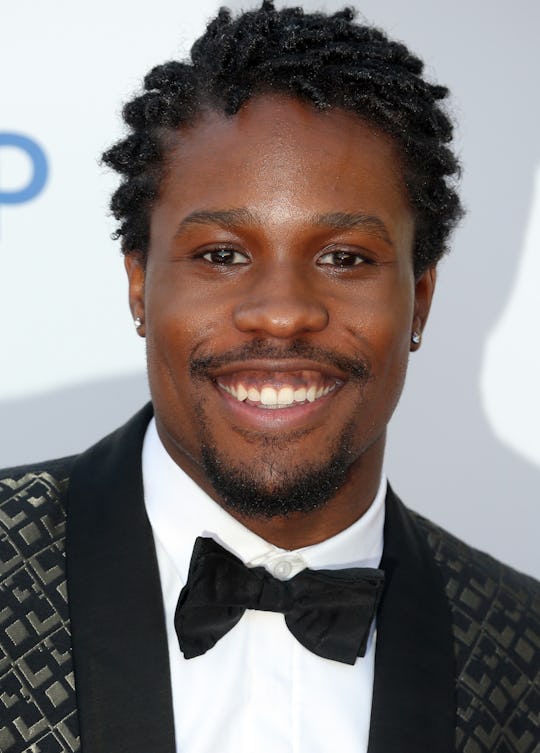 Imeh Akpanudosen/Getty Images Entertainment/Getty Images
Who Plays Shao On 'The Get Down'? You've Seen Shameik Moore Before
When The Get Down premieres on Netflix on August 12, it will join a growing number of Netflix original shows that viewers have been quick to devour. It will also join the ranks of Mad Men, Aquarius, and The Underground, which have all been successful in telling stories of specific periods. And at least one of the actors of The Get Down is no stranger to era-inspired dramas, so who plays Shao Fantastic on The Get Down exactly? Shameik Moore was most recently the lead in Dope, a coming of age comedy/drama set in a '90s-inspired southern California. So he's no stranger to channeling an inner character from a totally different time, and there is no doubt that he is going to blow his character, Shaolin Fantastic, right out of the water.
Moore is only 21 years old, but he's already shown the kind of vocal talent and acting ability to have names like Pharrell Williams and Nick Cannon instill faith in him. Through his young career, Moore has been able to work with Tyler Perry on House of Payne and Tracee Ellis Ross on Reed Between The Lines. And those aren't bad names to have down as former co-stars.
The role he'll be playing in The Get Down is one that isn't going to be foreign to him, as he's already proven himself to be a worthy singer and all an around pretty "dope" kind of guy. I know, that was awful. Anyway, it doesn't hurt to know a little more about him, even if he already looks familiar to you.
He Was Born In Atlanta, But Is Of Jamaican Descent
Growing up in Atlanta with a musician for a father, Moore was never not around music. He got exposure by utilizing one of the best sources of attention and fame of our time currently — YouTube. Moore created videos of himself singing and dancing and regularly uploaded them online.
He Got His Start Thanks To Nick Cannon
Editor's Note: The YouTube video has since been deleted.
Back in 2012, Moore spent a season on Nick Cannon's Cartoon Network sketch show, Incredible Crew. It was a short-lived series, with a 15 episode run, but it was legitimately funny, even if it was a variant of the classic All That. Not exactly Wild 'n Out, but the show gave Moore another big chance to break out and show the world what he's capable of as an actor.
He Starred In The Movie Dope
In 2015, Shameik Moore starred in the Sundance movie Dope, inspired by all things '90s and set in a time when computers and Bitcoin were just becoming a thing. Moore shined as a brainiac in a punk band with his two best friends, with dreams of going to Harvard. It was obviously his most important role yet, as his next big role would be Shaolin Fantastic in The Get Down.
He Has Music Available To Download & An Album Coming Out Soon
Right now, you can listen to Shameik Moore's mixtape album, King Sam, on SoundCloud, but he has a more full-length album in the works, titled Positive Vibes. According to him, no one has listened to it much yet, but he let his co-stars from The Get Down, current BFFs Jayden Smith and Justice Smith, check it out. They called it "next level," which is kind of adorable coming from these loyal friends and co-stars of his.
The Get Down will be available on Netflix August 12, with Shameik Moore playing Shaolin Fantastic, and it will actually be his first permanent TV show role since Incredible Show, so it's safe to say that he's come a long way.