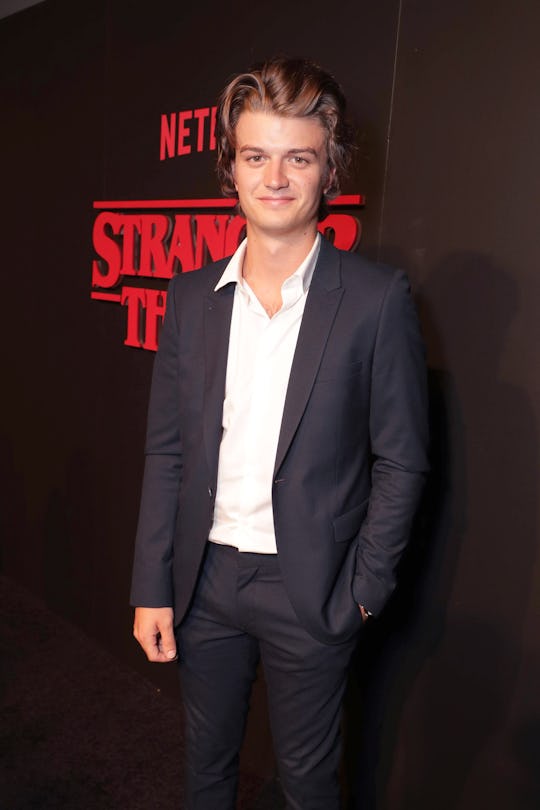 Eric Charbonneau/Invision for Netflix/AP Images
Who Plays Steve Harrington On 'Stranger Things'? This Is His First Major Role
If you haven't heard of Joe Keery, you aren't alone. But, that's about to change thanks to Netflix's newest hit. If after watching Stranger Things on Netflix, you might catch yourself wondering who plays Steve Harrington on Stranger Things, and for good reason. While it's a supporting role, it's a huge role for the actor, who stumbled into his first major role in a TV series. Really, it's his biggest role overall, but it's totally the start of a successful career.
The newest addition to the roster of Netflix Original Series, Stranger Things, premieres on July 15 with eight, one-hour long episodes available for immediate streaming. You know, so you can literally watch the entire series in one sitting — trust me, that will happen. The interesting thing about Stranger Things, besides its supernatural tones and total thriller/mystery vibe going on, is the fact that the majority of the kids who run the show are experiencing starring roles for the first time. But, like most Netflix shows, you have to trust that they know what they're doing. The success rate for Netflix originals is pretty legit, and experience by no means equals success.
In Stranger Things, Joe Keery plays Steve Harrington, the requisite popular '80s kid at the local high school that may or may not seem like a total tool at first, but grow into a decent guy. I mean, he already has the abundance of thick Eric Matthews hair to match. Before his upcoming role in Stranger Things, though, Keery appeared in a couple of episodes of Chicago Fire, then Empire, and had a role in the film Henry Gamble's Birthday Party. But, for someone who only started scoring roles last year (according to IMDB) and recently graduated from DePaul University the year before that, that's not too shabby of a resume.
When he isn't playing the cool high school kid on Stranger Things, though, Keery is playing in his band, Post Animal, which is based out of Chicago and just released an album in May. Their sound, a mixture of rock, pop, and something psychedelic sounding, is unique and definitely easy to listen to.
Joe Keery may be relatively new to the acting world, but playing Steve Harrington on Stranger Things gives him the chance to be seen by an even wider range of people and delve into a major role on what many will argue is the best TV show streaming service out there. So yeah, not bad for a recent college grad who spends his free time playing in his band.
You can look for Joe Keery in the Stranger Things premiere on July 15 on Netflix. He'll be the one with the kind of awesome One Direction hair. (Even though One Direction wasn't even a thing in the '80s.)