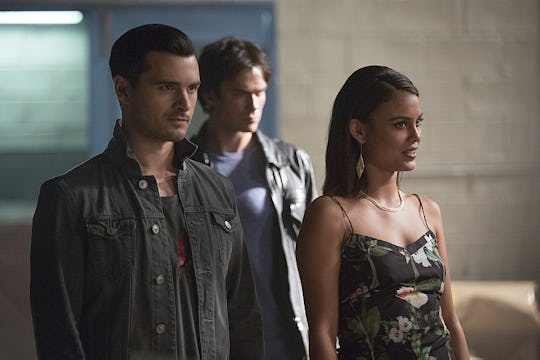 Bob Mahoney/The CW
Who Plays The Siren On 'The Vampire Diaries'? Nathalie Kelley Brings Trouble To Season 8
Katherine, Silas, Klaus, Kai — these are all villains that have come and gone on The Vampire Diaries (sometimes in order to start their own spin-off). But even the great and powerful Original, Klaus, may have met his match if he'd come face-to-face with The Vampire Diaries' new Season 8 villain, The Siren. Armed with the ability to get inside her victims' heads and control their minds, this new Big Bad are already proven to be a formidable foe. She even went so far as to alter Damon's memory of the first time he met Elena, replacing herself as the leading lady. (Seriously, not cool.) So who plays The Siren know as Sybil on The Vampire Diaries?
Her name is Nathalie Kelley and depending on your TV preferences, many of you have certainly seen her appear on the small screen before. Prior to her already iconic debut on The Vampire Diaries, the actress also starred in the Lifetime drama series UnREAL, where she played one of the show's contestants, Grace. She can also be found in several episodes of Body of Proof as well as CSI and Mistresses. It's also worth noting that she is also credited to appear in the upcoming Cruel Intentions series as Carmen Castillo. So regardless of what becomes of her TVD character, rest assured she has other projects in the works.
However, something tells me that Mystic Falls is truly where Kelley's acting talents are going to shine. Considering her character is described as "evil herself," it's safe to say she's going to be causing a lot of trouble for our beloved vampire gang this season. Because while they may have supernatural strength and speed, her mind control abilities will be hard to fight against. I mean, she's already managed to bend Damon to her will, which is no small feat. And as much as Enzo tries to fight her power, he too has proven to be no match for her. So how exactly is this going to play out?
Your guess is just as good as mine at this point, though, this would be the perfect opportunity for a TVD-Originals crossover. After all, who wouldn't want to see her go toe-to-toe with the Mikaelsons? (Just saying!) Either way, this character seems to be here for the long haul and I, for one, can't wait to see all of the horrors she has in store. This is our final season with this show, my friends. So I say, bring it on!