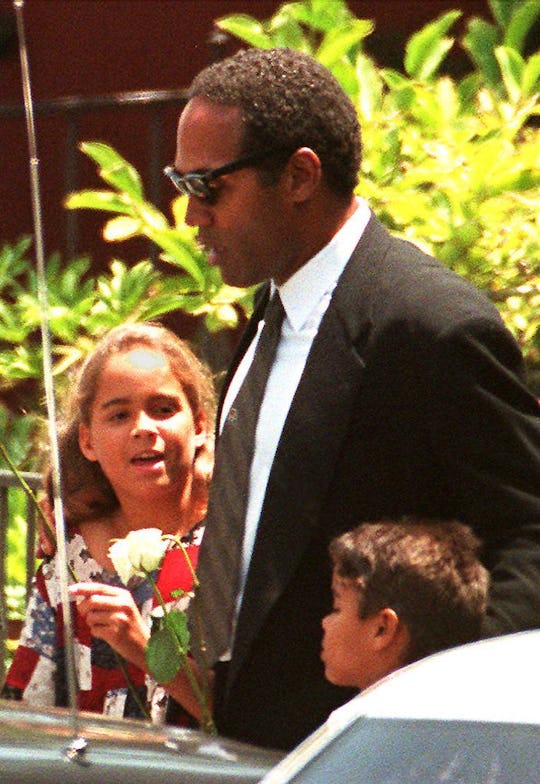 STF/AFP/Getty Images
Who Raised O.J. Simpson's Kids? Sydney & Justin Simpson Had A Supportive Family Network To Fall Back On
Since American Crime Story debuted on Tuesday Feb. 2, "O.J. mania" seems to have hit the internet. The FX true crime anthology created by Ryan Murphy (the genius behind Glee, American Horror Story, and Scream Queens), was an instant hit. Which should have been a surprise to exactly no one. Capitalizing on the murder trial of former NFL star O.J. Simpson (who was accused and later acquitted in the stabbing death of his wife Nicole Brown Simpson and her friend Ronald Goldman in one of the most memorable court cases in recent history), Murphy has reignited our passion for all things O.J. and re-opened many unanswered questions, such as who raised Sydney and Justin, Simpson's children with ex-wife Nicole.
Sydney and Justin were small children when they lost their mother; Justin was two months shy of his sixth birthday. The trauma of losing their mother must have been terrible for them — and then to have their father charged with her murder in such a public spectacle... how do you even get past something like that? How does someone raise children exposed to such tragic circumstances to become well-balanced, normal, productive adults in that sort of environment.
It appears it can be done. Sharing joint custody with Simpson, Nicole's family managed to raise the children away from the spotlight. Which is just the way Nicole would have wanted it, according to her sister Tanya Brown.
"She was a very hands-on mom." Brown told The Daily Mail in January. "She just made sure that her kids were having fun and being kids."
Despite her belief that Simpson allegedly murdered her sister, Brown has tried to "make nice" with Simpson for the sake of his children over the years. "They will always love their dad." she said. "I choose to respect that."
Brown has also chosen to watch American Crime Story despite her initial reservations. One can only hope Murphy et al will be respectful, despite the built-in melodramatic quality of the case. The All-American football hero, the alleged domestic abuse that occurred while the two were married. Not to mention witness Kato Kaelin and the infamous leather glove.
The show is already a hit with one episode under its belt. And yet I have this strange feeling Sydney and Justin won't have time for it, nor will they want to watch it. It looks like they are both busy living the lives of very regular folk in St. Petersburg, Florida. Justin is a successful real estate agent and Sydney is running her own business (Simpsy LLC), according to E! Online. I hope they are hanging out together on Sunday nights eating pot roast, maybe watching Downton Abbey. I hope they have nice friends who don't remind them about That Whole Business.
And I hope they don't mind if I keep watching American Crime Story because I'm sorry... I just have to.