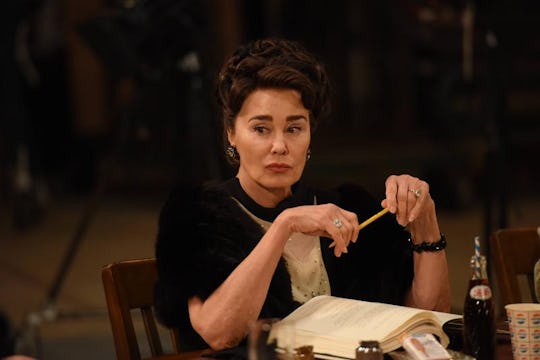 Prashant Gupta/FX
Joan Crawford Struggled With 'Hush... Hush, Sweet Charlotte'
As viewers saw on the April 9 episode of Feud, the attempt to mimic What Ever Happened to Baby Jane?'s success wound up being What Ever Happened To Cousin Charlotte? (though the title later gets changed to Hush...Hush, Sweet Charlotte). It was meant to serve as a follow-up film to reunite Baby Jane co-stars/rivals Joan Crawford and Bette Davis once again. But Crawford would never wind up starring in the final version of the film — largely thanks to the ongoing feud between the two women, more of which viewers are set to see in the upcoming installment. But who replaced Joan Crawford in Hush...Hush, Sweet Charlotte?
If Feud has made anything clear, it's the lengths that men in Hollywood will go to in order to manipulate women for their own personal gain — particularly men like studio head Jack Warner and, to a lesser degree, director Robert Aldrich. In Davis and Crawford's situation, as fans have seen, the two were mercilessly pitted against each other during a time when the industry was rife with sexism and stress for aging actresses. Throughout the first half of the season, viewers watched as tensions rose between Crawford and Davis, culminating in the ultimate showdown on the April 2 episode, when Crawford campaigned against Davis winning Best Actress and upstaged her by accepting the award on Anne Bancroft's behalf — further throwing the loss in Davis' face.
Despite that, as was shown in "Hagsploitation," Davis and Crawford reluctantly agreed to work with one another once again — largely because neither was being offered much in the way of promising work after the success of Baby Jane had receded. Still clearly hating one another, both women signed on to star in Robert Aldrich's new 1964 horror film, his latest submission to the "psycho biddy" genre.
Unfortunately, soon into filming Crawford appeared to realize she'd made a mistake by agreeing to act in the film, largely thanks to her continuing rivalry with (and insecurities regarding) Davis. Sources say that Crawford was still insecure about her Oscars snub for Baby Jane and sore over the fact that Davis was nominated and not her. She even demanded top billing over Davis when she signed on for Charlotte.
Just weeks into filming, Crawford dropped out of the production entirely, allegedly feigning an illness in the hopes of getting the movie to stall out indefinitely (effectively stopping it from getting made). The rumored final straw was that she'd called Aldrich's room and heard her rival in bed with him. Of course, given that we know the movie exists, it's clear that Crawford's plan to stop it from happening failed completely.
Crawford's role (as cousin Miriam, the antagonist) was offered to several other distinguished actresses (like Katharine Hepburn, Vivien Leigh and Barbara Stanwyck), but none of them wanted it. Eventually, Olivia de Havilland — Davis' close personal friend, played by Catherine Zeta-Jones on Feud — agreed to take on the role. But she wasn't exactly excited to appear in the movie.
De Havilland recalled of being cast in the midst of the Crawford-Davis debacle:
I always thought it would be fun if [Bette and I] could work together. Then, I was offered the chance to work with her on the film that became Hush...Hush, Sweet Charlotte when Joan Crawford withdrew. I knew Bette wanted badly to work, and Jane had been such a success that Bette was quite anxious. They had to find the replacement, and Bette wanted me. The problem was I wasn't as anxious to work as she was. I didn't need to. I wasn't thrilled with the script, and I definitely didn't like my part. I was reverse-typecast, being asked to be an unsympathetic villain. It wasn't what people expected of me. It wasn't really what I wanted to do. Bette wanted it so much, so I did it. I can't say I regretted it, because working with her was special, but I can't say it was a picture I am proud to put on my resume. Given the choice, I wouldn't have deprived Joan Crawford of the honor.
Unfortunately, the movie never quite achieved the same success as its predecessor — though it's unclear just how much of its relative failure had to do with Crawford dropping out of the movie. It's not like de Havilland and Davis are slouches, after all. Fans will just have to wait and see if this ends up being how it all plays out on Feud's final few episodes.