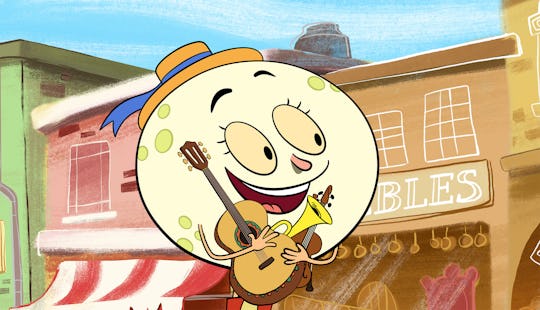 LATW Productions Inc.
The Voice Behind Luna On 'Let's Go Luna' Is Known For A Lot Of Other TV Shows
Let's Go Luna is about a talking moon who travels around the world and, with the help of a wombat, butterfly, and frog, teaches young viewers about different cultures. Luna herself is the walking, talking moon, and while the show is targeted toward kids, parents might find themselves wondering who voices Luna on Let's Go Luna. Judy Greer is more well-known for her acting in movies than voice work, but she's embraced the role completely.
"Working on a PBS kids' show... It's one of those pinch-me moments," Greer said in a clip ahead of the show's Nov. 21 premiere. "Because my whole life I've been watching PBS and PBS was my teacher and my friend and my mentor growing up. Now I'm on a kids' show on PBS that's gonna do for kids what shows in the past have done for me. It's really special."
At its core, Let's Go Luna teaches kids about the world while entertaining them. It also exposes them to different languages, food, and music from around the world. I'm not saying your toddler will be speaking perfect French by the end of the first episode, but they'll definitely have a good time learning without even knowing it. And Greer seems like she fully appreciates the value in that.
Although she's excited to be the starring voice in the cartoon, this isn't Greer's first time lending her voice to animation — though in the past, it's been for more adult-oriented content. She also voices the character Cheryl on Archer and played Wendy on the short-lived stop-motion animated series Glenn Martin, DDS. Those roles were a lot different than playing a talking animated moon for kids under eight, but she obviously has the voice for cartoon work.
But that's not all Greer is doing lately. In addition to her acting, she recently made her directorial debut with A Happening Of Monumental Proportions, a dramedy about teachers trying to a hide a dead body from parents on career day at an elementary school. Again, it's a lot different than Let's Go Luna.
"It was the kind of movie that I would like to watch," she told Now Toronto. "I like day-in-the-life things, and I really liked the idea of showing a day in the life of Los Angeles that had nothing to do with the entertainment industry. There's this amazing city of people that don't work in Hollywood, and I think that's sometimes forgotten."
In real life, Greer is a stepmom to two kids, so she can appreciate the value in Let's Go Luna as much as the parents watching with their kids at home. The show is targeted toward toddlers and young school-aged kids, so before they're off to preschool, you can already start teaching them through educational and (dare I say?) fun PBS content.
It's not so much about teaching kids the alphabet or counting, but is more oriented around cultural and sometimes geographic lessons. I'm no stranger to giving my preschooler almost free reign over his YouTube Kids app, but this is a nice alternative when you need to reach a compromise with your five-year-old.
Season 2 of Doula Diaries shares the stories of fearless doulas helping their clients take control of their births and make tough choices that feel right to them. Watch the first episode of the new season Monday, November 26th.