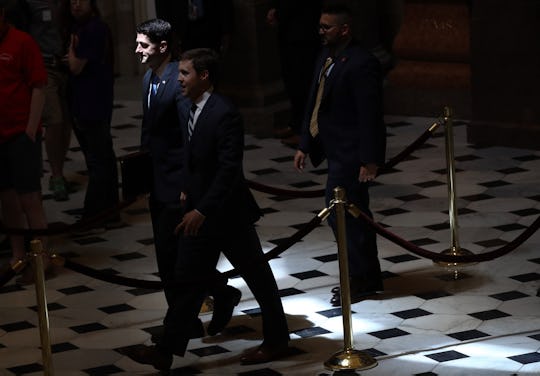 Win McNamee/Getty Images News/Getty Images
Here's Who Voted Yes On The AHCA Bill
The much-anticipated GOP health care bill passed in the House on Thursday. Many are now wondering: Who voted yes on the AHCA bill? Shortly after it went through, The Atlantic reported that "the party-line vote was 217-213, with 20 Republicans voting against." But the fight's not over yet: Now, The American Health Care Act (AHCA) will go to the Senate.
No Democrats votes in favor of the bill, which only ended up passing by four votes. Rather than rattle off the names of all of the 217 Republican reps who supported the bill, it's perhaps a bit easier to highlight who in the GOP voted "no." Representatives Andy Biggs of Arizona, Mike Coffman of Colorado, Barbara Comstock of Virginia, Ryan A. Costello of Pennsylvania, Charlie Dent of Pennsylvania, Dan Donovan of New York, Brian Fitzpatrick of Pennsylvania, Jaime Herrera Beutler of Washington, Will Hurd of Texas, Walter B. Jones of North Carolina, David Joyce of Ohio, John Katko of New York, Leonard Lance of New Jersey, Frank A. LoBiondo of New Jersey, Thomas Massie of Kentucky, Patrick Meehan of Pennsylvania, Dave Reichert of Washington, Ileana Ros-Lehtinen of Florida, Christopher H. Smith of New Jersey, and Michael R. Turner of Ohio are the 20 nay sayers on the right. But even though these Republicans voiced their opposition to the AHCA, it still wasn't enough to prevent the bill's passing.
After the final vote was tabulated, Democrats sang "na, na, na, na, hey, hey, hey, goodbye" to drown out Republicans' cheers. Vox notes that this serenade wasn't meant as a goodbye to Obamacare, but rather it was meant as a taunting goodbye to the Republican party, specifically the reps who opted to support the bill. As informed by polls, the AHCA's unpopularity is, Democrats believe, more than bad news for the GOP — it could even be a death sentence.
Despite Democrats' attempts to undermine its passing, the President Donald Trump appeared confident in his health bill's success. Speaking in the Rose Garden on Thursday afternoon, Trump insisted "people were suffering so badly with the ravages of Obamacare," and promised monumental improvements under the AHCA, including lower premiums and deductibles.
Prior to the vote, TrumpCare was widely criticized for its pre-existing conditions caveat, in which states would be able to obtain waivers that would allow insurance companies to charge higher premiums for users with pre-existing conditions, which include "Alzheimer's, dementia, kidney disease, multiple sclerosis, congestive heart failure, epilepsy, diabetes, asthma, severe mental illness — even pregnancy," Romper's Tiffany Thomas highlights. Many thought that this might encourage more Republicans to vote "no," but the final numbers indicated otherwise.
Again: TrumpCare hasn't fully passed — yet. A Senate vote is still needed to help turn the health care bill into law. But, seeing as the GOP can only concede two "no" votes in order to continue, there still might be a long ways to go before health care legislation is altered once again.