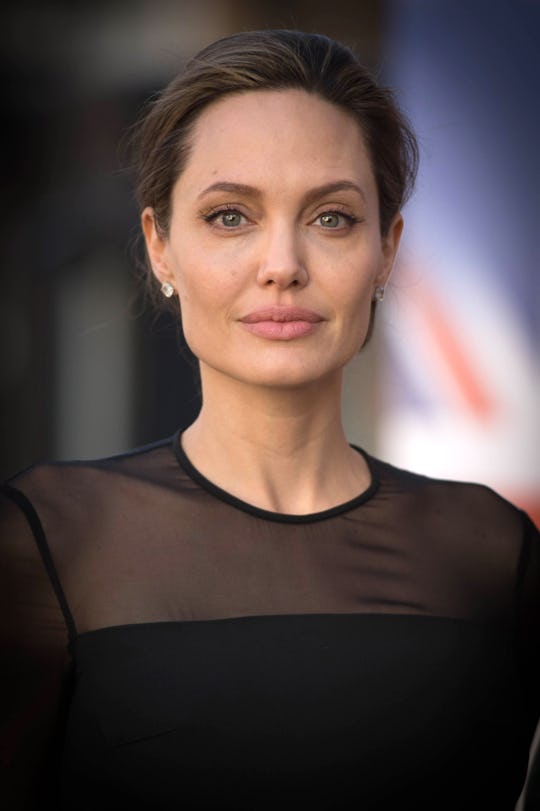 WPA Pool/Getty Images News/Getty Images
Who Was Angelina Jolie Married To Before Brad Pitt? He's Her Third Husband
As the curtain closes on Angelina Jolie's two-year marriage to Brad Pitt, commonalities are emerging between her current, fading relationship and relationships that she's had in the past. Jolie has been married twice before, but who was Angelina Jolie married to before Brad Pitt? Both men were actors, and both marriages lasted just a few years each.
Romper has reached out to both Jolie's and Pitt's reps for comment about their separation and has not yet heard back. Jolie's attorney has stated that Jolie seeks privacy in the divorce proceedings, saying "this decision was made for the health of the family. Pitt told People that he's "saddened" but is now prioritizing "the well being of [their] kids."
While filming the tech crime-drama movie Hackers in 1995, Jolie met lead actor Jonny Lee Miller. The two eloped in Las Vegas just six months after the film had finished shooting, and Jolie sported non-traditional wedding garb on the big day. Whereas Miller opted to wear "black leather," 21-year-old Jolie wore "black rubber pants and a white shirt with the groom's name written in her blood across the back" — a top that she expertly crafted herself. When probed about her reason for doing so, Jolie told The New York Times: "You can sacrifice a little to make it really special." After three years, Jolie and Miller split, though they still remain "great friend[s]."
The same year as her divorce from Miller, Jolie met Billy Bob Thornton while she was playing his wife in the 1999 film Pushing Tin. After two months of dating, they, too, married in Las Vegas. Their three-year stint had its controversies. First off, Thornton is 20 years older than Jolie. Also, Jolie acquired an infamous "Billy Bob" tattoo. The marriage had its bloody moments as well; the pair wore vials of each other's blood around their necks which were meant to be a romantic symbol of closeness when they were apart from each other.
After their divorce, Jolie told E!: "I still love him dearly and think the world of him and I'm proud to have been his wife for a time."
Seeing as Pitt's the father to Jolie's six children, Jolie will hopefully be able to foster another healthy friendship post-marriage, like she was able to do with Miller and Thornton. Though Jolie has asked that Pitt be granted legal—and not physical—custody, her decision to not cut him out of their children's lives completely indicates that she would like his relationship with them to continue, if at all possible.