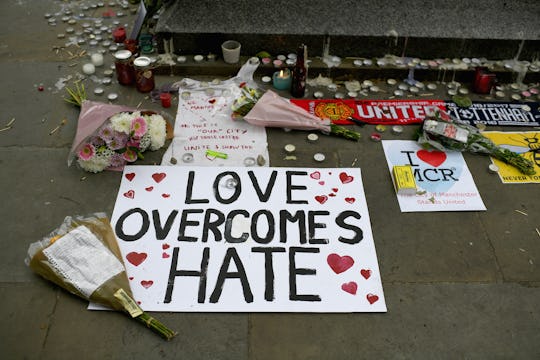 Jeff J Mitchell/Getty Images News/Getty Images
Manchester Victim Kelly Brewster Died Protecting Niece
It has only been two days since the devastating bombing attack on the Manchester Arena that killed 22 innocent victims and wounded 59 more. Two days for people to frantically look for their missing loved ones who were attending the Ariana Grande performance on Monday night. For far too many people, that search has ended in grief. The family of Manchester bombing victim Kelly Brewster was one terrible example. Friends and loved ones of the 32-year-old woman from Sheffield took to social media as news of the bombing began to surface, only to find out she had died in the terror attack.
Brewster, a civil servant, was attending Monday night's concert with her sister, Claire Booth, and Claire's 11-year-old daughter, Holli Booth, when a 22-year-old suicide bomber detonated a device inside the arena. In the ensuing panic, Brewster's loved ones desperately shared her picture on Twitter in the hopes that they would find her alive. Unfortunately, that was not to be. Kelly Brewster died in the arena, and what's even more tragic... she died saving the life of her niece. According to Tracy Booth, Holli's grandmother, Kelly Brewster died shielding Holli from the blast. Booth told The Telegraph:
I'm devastated about Kelly's death. She was a hero. I would not have my granddaughter if it was not for her. It is such a shame to lose Kelly because I would have liked to have thanked her. But if she had lived I would have been unable to repay her for what she has done. I will be indebted to her for the rest of my life.
Holli Booth suffered two broken legs and her mother Claire, a broken jaw, from the impact of the bomb, Booth wrote on Facebook.
Kelly Brewster was just about to embark on an exciting new stage in her life; according to her partner Ian Winslow's father, John, the two had just decided to move in together and had put down a deposit on a home in Sheffield the day before the attack. John Winslow told The Daily Mail that Kelly was especially close to Ian's daughter Phoebe:
Kelly was a lovely lass. When I think of her now, all I remember is her smile. She used to come round to our house all the time, for Christmas and everything. Ian's seven-year-old daughter absolutely idolised her.
John Winslow also told The Daily Mail his son Ian was "absolutely distraught." He was up all night in the wake of the attack with Brewster's parents, trying to find news of her and hoping for the best. Sadly, it was not to be. Ian Winslow shared a post to Facebook from Manchester on Tuesday:
Not sure how this works but it isn't good news. Kelly Brewster wasn't one of the unidentified hospital patients. She has sadly passed away in the terror attack yesterday. Kelly really was the happiest she has ever been and we had so many things planned together. My daughter Phoebe will be absolutely devastated like we all are.
Kelly Brewster's local newspaper, The Sheffield Star, shared memories from friends and supporters who called her fun-loving, and a big pop music fan with a ready smile and a generous heart. A woman on the brink of an exciting new stage of her life.