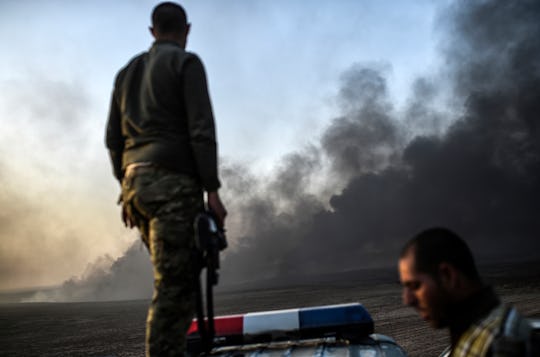 BULENT KILIC/AFP/Getty Images
Who Was The U.S. Service Member Killed In Iraq? It's The 4th American Casualty Since 2014
It's the news nobody wants to hear: an American service member dying in the line of duty. On Thursday, a U.S. service member was killed in northern Iraq in a military offensive trying to reclaim the city of Mosul from ISIS forces. And somewhere in the United States, family and friends are surely grieving the loss of someone they loved.
Very little information has been released about the identity of the U.S. service member at this stage; A statement issued by the U.S.-led military coalition did not identify the casualty. "Further information will be released as appropriate," the statement read. The coalition reported that the service member was killed by a roadside IED (improvised explosive device) not far outside the city of Mosul. The service member was evacuated from northern Iraq to receive treatment for injuries but did not survive.
According to The Hill, more than 100 American troops are active in efforts to retake Mosul, which is considered the capital of the ISIS terrorist organization. The American troops are working alongside Iraqi and Kurdish Peshmerga forces. Hundreds more U.S. service members are assisting these efforts with air strikes, intelligence and logistics support, and artillery fire. In total, there are over 5,000 troops stationed in Iraq.
In 2011, President Obama withdrew all troops from Iraq but redeployed troops in 2014 when ISIS took over the country. The most recent casualty brings the number of American military losses in Iraq to a total of four since Operation Inherent Resolve (which is focused on fighting Islamic terrorist forces in Iraq and Syria) began in 2014.
While Obama did send an additional 600 troops to Iraq to aid local forces in the battle to retake the city of Mosul in September, the Pentagon continues to insist that American troops are playing a largely supportive role in the mission. As White House Press Secretary Josh Earnest said at the time the 600 troops were deployed:
These are military forces that will be deployed to intensify the strategy that's in place, to support Iraqi forces as they prepare for an offensive.
While there are American troops aiding in the Mosul Offensive to reclaim Iraq's second largest city from jihadists, they are working with approximately 30,000 Iraqi security forces including Sunni Arab tribesmen, Kurdish Pershmerga fighters, and Shia militiamen. The assault began on Monday and is expected to take weeks or even months to complete, though it's estimated that the Islamic State fighters are vastly outnumbered (estimates put their numbers at around 5,000 fighters). The coalition fighters are working towards freeing the one and a half million civilians who are now living in the city, some of whom are reportedly being used as human shields by ISIS radicals.