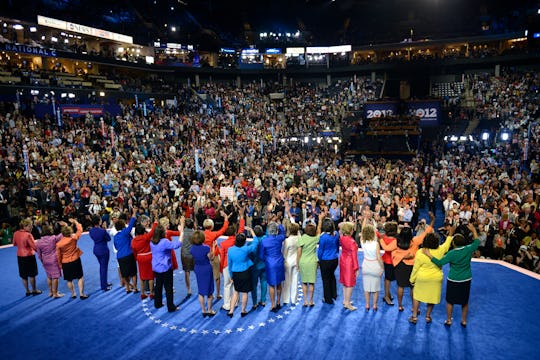 BRENDAN SMIALOWSKI/AFP/Getty Images
Who Were The House Democratic Women Who Took The Stage At The DNC? They're #WithHer
It was a powerful moment at the Democratic National convention, an important moment of unity for the Democratic party in general. All of the female House Democrats as well as women who are running for office stood united on the Wells Fargo stage in support of Democratic presidential nominee Hillary Clinton. These women were eloquent, poised, and (I'll say it again, folks) unified. So who were the House Democratic women who took the stage in support of Hillary Rodham Clinton at the DNC? Because in my eyes, they basically stole the show for a moment.
These women reminded me (and I'm guessing many others) that this historic moment does not necessarily belong to Clinton alone. That there are women out there who have been fighting the good fight. Clinton obviously agreed, because she gave some pretty spectacular women a brief moment in the sun.
Nancy Pelosi
Standing strong with the rest of the House Democratic women, House Minority Leader Pelosi had this to say about Clinton:
Nothing is more wholesome for America than the increased participation and leadership of women in government and politics. Here tonight are women who personify the integrity, imagination, idealism, and, indeed, the courage that will build a stronger America for hard-working families. As Hillary Clinton did, they have spent their lifetime fighting for women and children. And in November, we will affirm the great truth of our country: When women succeed, America succeeds.
Val Demings
Demings, a former Orlando police chief who is running for Florida's 10th Congressional District, spoke passionately about an issue that is particularly near and dear to her heart: gun violence. "I know firsthand the tragedy that gun violence inflicts on families in America," she said.
Stephanie Murphy
Murphy, a former Department of Defense security analyst and professor who is running for a congressional seat in Florida's seventh district, is up against 12-term veteran Republican John Mica in her district. While some might balk at the challenge, Murphy is proving she's got grit. Back in June, speaking to reporters in Florida, Murphy said,
I don't know John. But I think he's on the wrong side of history on a couple of points, particularly in light of the tragedy that happened in Orlando. He has voted against 'No fly-no buy,' and as a person with a national security background and as a mom I just find that to be an unconscionable position.
Bonnie Watson-Coleman
New Jersey Rep. Watson-Coleman, who was the first Black woman to be elected to Congress in that state, spoke to the cheering crowd about improving the country's infrastructure. Watch her speak above and be inspired to do better, too.
Suzan DelBene
Washington state congresswoman DelBene spoke to delegates about the Innovation Agenda and, of course, her unwavering support for Hillary Clinton (...also, unrelated, I love her glasses).
Lois Frankel
Rep. Lois Frankel from Florida's 22nd District was clearly moved when declaring her support for Clinton, as were the rest of the House Democratic women who stood, unified, on stage to declare, loud and proud, #ImWithHer.
It was an amazing moment. Check out the video below to re-live the moment.