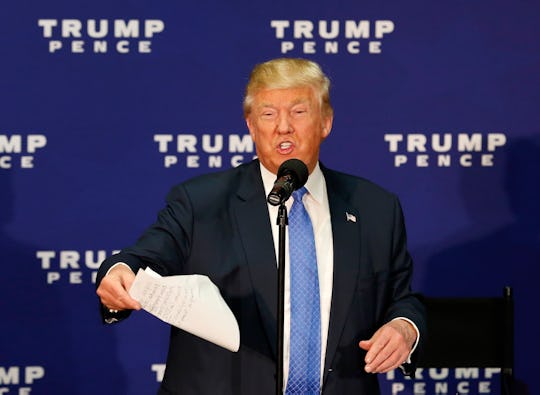 MARY SCHWALM/AFP/Getty Images
Who Were The Women At Trump's Press Conference About Bill Clinton?
Just prior to his second presidential debate with Democratic nominee Hillary Clinton, Republican candidate Donald Trump threw a press conference that was far from ordinary. In a meeting that was broadcast on Facebook Live, the real estate mogul invited four women who have accused former president Bill Clinton of sexual assault to speak out in public. So, who were the women at Trump's press conference? They all had plenty to say about the Clintons.
The four women at the press conference, which took place at the Four Seasons Hotel in St. Louis, were Paula Jones, Kathy Shelton, Juanita Broaddrick, and Kathleen Willey. According to The Washinton Times, each of the women at the pre-debate press conference said that they supported Trump, and issued short statements to the press. "These four very courageous women have asked to be here, and it was our honor to help them," Trump said during the press conference.
So who are the four women? According to Time, Willey was a White House volunteer in 1993 who once told a grand jury that Bill both gave her a hug and fondled her in his office at the White House — an accusation that Bill denied under oath.
NPR reported that Broaddrick, who first accused Bill of rape while he was running for president in 1992, said at Trump's press conference that "Bill Clinton raped me, and Hillary Clinton threatened me. I don't think there's any comparison." In 1998, however, Broaddrick had given investigators a sworn affidavit saying that the allegations of rape were untrue. In 1999, she recanted that statement.
In 1997, Jones testified that Bill had propositioned her and asked her to perform oral sex on him. Bill settled the lawsuit for $850,000 in 1999, according to The International Business Times, although that wasn't considered an admission of guilt and her case was eventually dismissed. "I am a big Trump supporter, I think he would be our next best president since Ronald Reagan... I would have liked to have sat up there with all of the women and maybe make Hillary nervous," Jones told Inside Edition recently, according to The International Business Times. "[Hillary] can't be trusted. ... She is for herself."
The fourth woman at the conference, Shelton, was sexually assaulted at the age of 12 — and Hillary was her attacker's court-appointed lawyer. According to Vox, Hillary has said she didn't want to defend Shelton's attacker, Thomas Alfred Taylor, but by law, everyone deserves a lawyer in court. Still, Shelton has tweeted against Hillary, writing, "At 12 I was one of the first women Hillary Clinton destroyed, but I wasn't the last. Please put an end to this woman's career of abusing us."
Hillary called Trump's press conference a "stunt," while her campaign called it Trump's "latest act of desperation." That's the lovely thing about free speech, though: everyone is allowed to have their voice, regardless of where they stand.