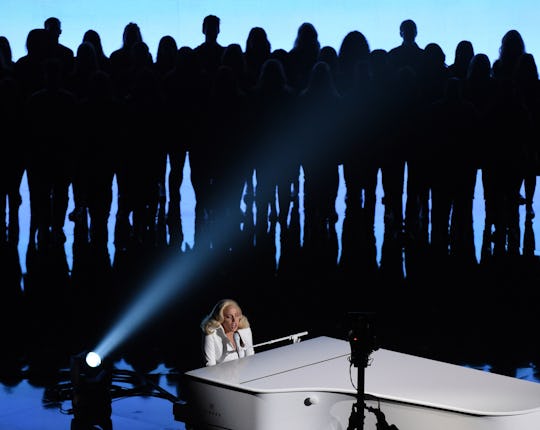 MARK RALSTON/AFP/Getty Images
Who Were The Women & Men On Stage With Lady Gaga At The Oscars?
It's safe to say that the 88th Academy Awards touched on a number of important topics. Although issues of diversity in Hollywood were the topic on everyone's mind leading up the big night, Lady Gaga's performance put the issue of sexual assault on the forefront of everyone's mind. Lady Gaga took the stage to perform her Oscar-nominated song "Till It Happens To You." Lady Gaga began singing solo, but was soon joined by more people. So who were the women and men on stage with Lady Gaga at the Oscars?
Well, before know who these people were, it's important to know what the performance was about. Lady Gaga produced "Till It Happens To You" for The Hunting Ground, a documentary about sexual assault on college campuses in the United States. The film follows women and men who allege that they were assaulted and the actions or, ore accurately, the lack of actions that their university officials took to help these victims.
"Till It Happens To You" is a tribute to not only the victims in the film, but all victims of sexual assault who came forward with claims of assault only to be silenced by society.
So, when asked to perform her single at the Oscars on Feb. 26, Lady Gaga took this as an opportunity to give a voice to those who have been silenced. According to TV Line, Lady Gaga was joined by survivors of sexual assault. Though the names of these women and men have been kept private, some have revealed themselves through social media.
Lady Gaga's song is especially poignant now, given the recent sexual assault allegations singer Kesha made against producer Dr. Luke. Kesha filed a suit against the Sony producer in 2014, only to have the injunction denied earlier this month. An overwhelming number of people came to Kesha's support, including Lady Gaga herself. Prior to the award show, Lady Gaga tweeted that she would be thinking of Kesha during her performance.
After such a powerful performance, I hope that everyone who has suffered from an assault finds someone to stand by their side until they too live a happy life.