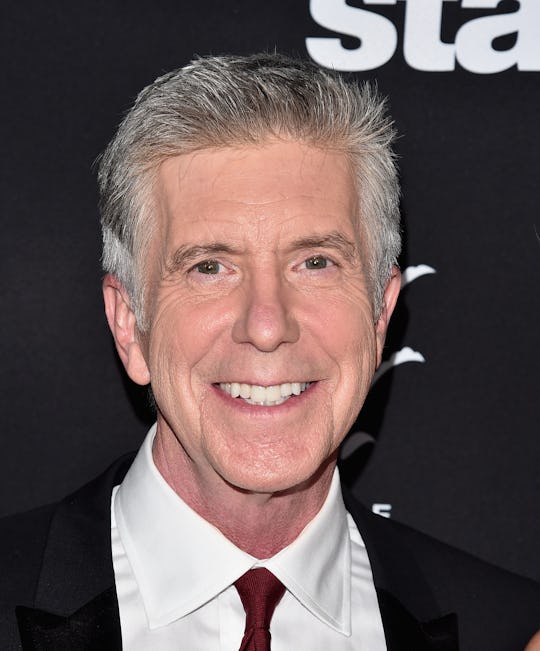 Alberto E. Rodriguez/Getty
Tom Bergeron Just Dropped A 'DWTS' 2018 Bombshell
It was easy to miss host Tom Bergeron's announcement in the last few seconds of the Dancing with the Stars Season 25 finale, which came moments after the announcement that Jordan Fisher was the season's winner. But if you did catch it, you'll have heard that in the spring of 2018, the show would be back with an all-athletes spin-off. So who will be in the athletes edition of DWTS? The cast has not been announced yet, but I'm eager to see who will make the cut.
Normally, a season of Dancing with the Stars airs twice a year, once in the fall and once in the spring, alternating with seasons of The Bachelor and The Bachelorette. This schedule is so regular you could measure the changing of the seasons by it. Not so, this year, however. It was announced in the spring of 2017 that the following year Dancing with the Stars would be airing a spin-off of their popular show. It was supposed to be Dancing with the Stars Junior. I'm still not sure whether or not that is happening, but what I do know is that we'll now get to see a whole crew of hockey players and tobogganers and and rock climbers (is that a sport?) learn how to quickstep in just four weeks.
The switch up does not come as a total shock to me, as Bergeron had dropped hints the night before that the show was unveiling something new in the spring. In fact, I waited the entire two hours for Bergeron to give a little more information on what the spring's spin-off would be, because of two cryptic tweets he sent on Monday, the day before the finale. Frustratingly, these two tweets didn't reveal very much information, and there hasn't been any more information revealed yet.
In the tweets, Bergeron said that Season 26 of Dancing with the Stars would be in the fall, while a four-week mini season would air in the spring. He said that it would be a "bite size, spray tanned spin-off," a gloriously intriguing description of a television program if I'd ever heard one. Another tweet said that the mini-Spring season would not be Dancing with the Stars Junior and that there would be more information out on Tuesday. Well, it's Tuesday, and the only further information provided was the announcement that it would be an all-athletes mini season which, to be completely honest, is not a whole lot of information.
Based on previous seasons of Dancing with the Stars, I can try to guess which athletes will make an appearance this spring, but I am by no means sure. I watch a lot of TV, but very rarely is any of it sports. In fact I think the only time I watch sports is when it's on at a bar and I can't tell anyone to change the channel to Bravo. But I will do my very best to suss out who could be making an appearance in the ballroom.
The season will air shortly after the 2018 Winter Olympic Games, which are taking place is South Korea. Historically, Dancing with the Stars loves an Olympic champion, with competitors including several medal-winning gymnasts like Laurie Hernandez and Simone Biles, swimmer Ryan Lochte, ice dancer Meryl Davis, and speed skater Apollo Ohno. So I think we can expect to see at least one figure skater and potentially a skier if they get enough national attention.
I would like to see some unlikely competitors join the fray. Perhaps a hockey player will prove more graceful than imagined. Maybe we'll see a bobsledder take the title for this mini-season. I may not like sports, but I am always down for the ballroom.
Check out Romper's new video series, Romper's Doula Diaries:
Watch full episodes of Romper's Doula Diaries on Facebook Watch.